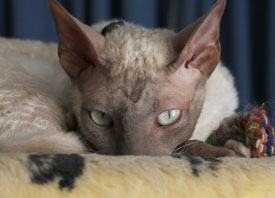 Cats make great pets – if they are cared for. To reduce the number of strays owners are encouraged to de-sex their cats and to feed them inside.
If you find a stray please contact the Southland Branch of the RSPCA (03) 218 9684 (03).
Traps
Cat traps are available from Council's Esk Street building. There is no hire fee but a deposit of $20 is required (the deposit is reimbursed when the trap is returned). The traps are a humane method of trapping stray cats. They operate on a trip lever principle, which will not injure the cat.  All animals that are caught in the Council's cat traps should be dealt with in a humane manner, in accordance with the provisions of the Animal Welfare Act 1999. Cruelty to animals is an offence, which may result in legal action being taken. The disposal of the cat is your responsibility. For a donation the Southland RSPCA will provide a disposal/rehousing service.