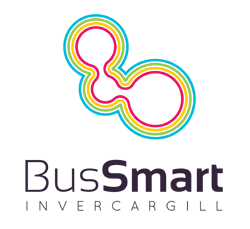 The four routes of the Bus Smart service provides city-wide coverage (details below). Links to school bus routes are also available on this page. The four main routes begin and end at Bus Smart Central outside Reading Cinemas in Dee Street. All Bus Smart buses have free Wi-Fi, an on-board information system and bike racks.
Anzac Day
Bus Smart buses will not be running on Saturday, 25 April and Monday, 27 April because of Anzac Day observances. Normal services will resume on Tuesday, 28 April.
Bus Smart Cards
There is a one-off $5 fee for a Bus Smart Card but the card entitles you to a 10 per cent discount on fares. See the Bus Smart Card page for more details.
Bus Smart route maps
Fares
Bus Smart card users receive a 10% discount on all fares.
Super Gold Card holders receive FREE off-peak travel IF the holders also have Bus Smart Cards (the cards will be swiped but no fares will be deducted).
Cross-city fares are for two trips within one hour.
The off-peak times for all routes are from 9am to 2.55pm on weekdays and from 10.30am to 3.40pm on Saturdays.
Child (under 5)PeakOff-peakCross-cityChild  (5 to 15)

Peak

Off-peak

Cross-city

Adult 

Peak

Off-peak

Cross-city

Senior Citizen

Peak

Off-peak

Cross-city

Super Gold Card

Peak

Off-peak

Cross-city

From Feb 1, 2015FreeFreeFree

$1.90

$1.40

$2.40

$2.80

$1.40

$3.40

$1.90

$1.40

$2.40

$1.90

Free

$2.40
 School routes
Maps and details of the schools service are available in the following files. There is a 10 per cent reduction for students who use Bus Smart Cards.
• Clarendon
• Clifton
• Hargest (afternoons)
• Newfield
• Waikiwi
•Windsor School Route