Prices
Adult $20, child (13 years and over) $5. Service fees, method of delivery fees and credit card charges will also apply.
Tickets
ICC Ticketing Office, 101 Esk Street, Invercargill, phone (03) 211 1692 or online at TicketDirect
Performances
Shows on April 28 and 29, each at 7pm. Running time is one hour.
Anzac Eve is an exciting new play about a disparate group of twenty-somethings on their big OE who happen upon each other the night before Dawn commemorations at Gallipoli. National pride and personal issues stir up strong feelings as tempers flare, romance sparks and ghosts are uncovered.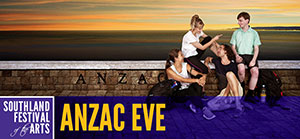 With each seeing historical events through their own lens, are they really there to solemnly commemorate the occasion? Or are they just there for a boozy party and possible hook-up?
Directed by Jamie McCaskill and written by Dave Armstrong, Anzac Eve is highly entertaining and takes an honest and unflinching look at the Anzac experience. This fresh and contemporary take on a significant time in our nation's history, is a must-see for every young New Zealander.
Door sales based on availability on the night of the event. This show is suitable for children aged 13 years and over. For enquiries contact the ICC Ticketing Office (details above).