Prices
Adult: Premium $78, A Reserve $52, B Reserve $45.
Child (suitable for 12 to 17 years – mature content): Premium $45, A Reserve $35, B Reserve $25
Senior/tertiary/unwaged concessions : Premium $70, A Reserve $46.80, B Reserve $40.50
Student Rush: $20 (box office on night of show only)
Wheelchair patrons are entitled to bring along a companion without charge. Please enquire.
School Groups, Groups 6+, Groups 20+ package prices available. Please enquire.Note: Service fees, method of delivery fees and credit card charges will also apply.
Tickets
Invercargill Ticketing Office, 101 Esk Street, Invercargill, phone (03) 211 1692 or visit TicketDirect
Two landmark works of 20th century dance, never before performed in New Zealand, are given their first performances by the RNZB. These iconic works by French master choreographer Roland Petit with music by Georges Bizet combine explosive drama and high-voltage technique.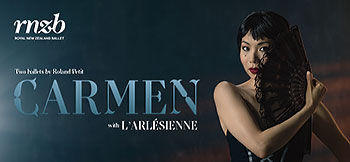 L'Arlésienne: It's high summer in Provence. On his wedding day, a young man is captivated, then obsessed, by an unknown, unseen woman. Consumed by his vision, he abandons his bride, losing his reason and ultimately, his life.
Carmen: Temptress, free spirit, victim or villain? Carmen lives and loves on her own terms. Whatever claims a man makes on her body, her heart and mind are her own. Bizet's opera Carmen was first performed in Paris in 1875 and is one of the most popular works in the operatic canon. Roland Petit's ballet, now his signature work, premiered in London in 1949 with Zizi Jeanmaire in the title role and Petit himself as Don José.
Warm Up, Curtain Up!
Wednesday, 22 February at 6:20pm
Pre-show entertainment opportunity to watch the RNZB dancers warm up for their evening performance at the Civic Theatre. General admission. No ticket required – gold coin donation.