PRICES
Adult $45, school-aged children $25. Service fees, method of delivery fees and credit card charges will also apply.
TICKETS
Visit the ICC Booking Office, 101 Esk Street, Invercargill, Phone (03) 211 1692 or online at TicketDirect http://www.ticketdirect.co.nz/event/details/171988/pipin-hot-presented-by-the-city-of-invercargill-highland-pipe-band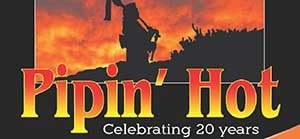 The City of Invercargill Highland Pipe Band looks forward to presenting this year's Pipin' Hot Concert to our Southland audience.
We are joined by guest vocalists Brendan Mason, Saelyn Guyton, Jo Ward, Cheryl Anderson, fiddle player Steven Hayes and our very talented backing band.
Contemporary dancer Meg Laker and the Highland dancers will add another dimension to the show.
It has been 20 years since our first Pipin' Hot show so come along and enjoy some popular numbers from our past shows and some new ones we have added for your enjoyment.
NOTES
Show running time: about 2 hours (including short interval).
For more information contact the ICC Booking Office (details above).