Myross Bush School Production:
The Space Project – The Voyage of Rocky Rocket
Prices
Adults $15, child (16 years and under) $5. Service fees, method of delivery fees and credit card charges will also apply.
Tickets
Visit the ICC Booking Office, 101 Esk Street, Invercargill, phone (03) 211 1692 or online with TicketDirect
Running time
About 1.5 hours (no interval).


It's the year 2036 and after thousands of years of use and abuse, our poor old Earth is in pretty bad shape. The ocean's a mess, the rubbish situation is out of control but worst of all, the hole in the ozone layer is bigger than ever and it doesn't look like it's going to hold together for much longer.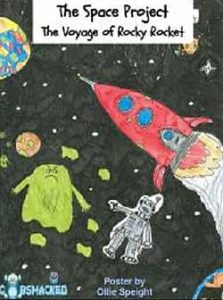 Things are looking pretty bad. So bad, that the countries of the world have pooled together all of their resources to build a super space ship – Rocky Rocket, capable of traveling 10 times faster than anything man has ever built before. With Rocky Rocket ready to fly, our specialist team from all over the world blasts off for Europa, where it seems that life has been discovered by space biology expert Jupiter Moon.
It's the last hope for humanity and with the atmosphere doomed to fail, everyone's holding their breaths and hoping we can start fresh on a whole other planet.
Our crew are headed deep into the murky unknown of outer space on a mission fraught with untold terrors. To get to Europa, they'll have to battle space slimes, fiery comets and a hostile Martian race. But will Europa be the planet of salvation they hope it to be? Or will the team on Rocky Rocket discover something much more important along the way?
NOTE:
For all enquiries contact the ICC Booking Office (details above).