Stags v North Harbour Thursday, 24 August 2017 at 7.35pm – 9.05pm
Rugby Park Stadium, 278 Tweed Street, Invercargill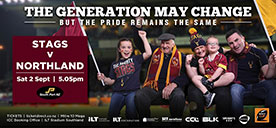 Prices
Platinum: Covered stands, allocated seating, $30 adult, $20 child (14 and under, 2 and under free if sitting on parent's knee)
Gold: Uncovered Stands, allocated seating, $20 adult, $10 child (14 and under; 2 and under free if sitting on parent's knee)
Bronze: Terraces, general admission , $15 adult, $12 student (with ID), $5 child (14 and under)
Wheelchair and companion: $10 wheelchair patron with free carer; $10 wheelchair patron without carer.
Take a Kid to Footy: Section K only, $20 for 1 adult and 1 child (extra adult $20, extra child $5). Kid's pack included – can be collected on game day from the clock tower (near main entrance).
Gate sales: Available 3 hours prior to kick-off, until half time.
Tickets
Visit the ICC Booking Office, 101 Esk Street, Invercargill, phone (03) 211 1692 or online with TicketDirect. Tickets are also available from the TicketDirect kiosk set up at Mitre 10 Mega.
Notes
For all ticketing and enquiries contact the ICC Booking Office (details above).
Important: alcohol, food and non-alcoholic beverages can be purchased at venue outlets, however, bottles of water (unbroken seals), homemade sandwiches, cakes, fruit, special dietary requirements, baby food/liquids and small tetrapak fruit juices are permitted.