Two shows – noon and 3pm – on Friday 4, August 2014
Prices
Adult $30.
Child $25 aged 17 years and under; 18 months and under free if sitting on parent's knee
School Groups: $240 (1 free teacher per 12 children at $20 per child; extra adults at full price). NOTE: Available to Early Childhood Education groups and Primary Schools only.
Service fees, method of delivery fees and credit card charges will also apply.
Tickets
ICC Ticketing Office, 101 Esk Street, Invercargill, phone (03) 211 1692 or visit TicketDirect
"and – pop! – out of the egg came a tiny
and very hungry caterpillar."
One of the most-read and famous children's books of all time, The Very Hungry Caterpillar emerges off the page in a masterful theatrical experience for the whole family.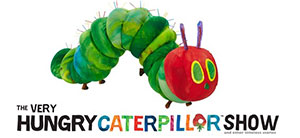 Journey through Eric Carle's incredible stories as they come to life on stage in this enchanting show. Featuring some other delightful characters from three of his best-selling classics tales including The Artist who Painted a Blue Horse, Mr. Seahorse and The Very Lonely Firefly.
This Australian-made show will excite, educate and entertain new readers and first-time theatre-goers, while for those who grew up with these books will delight in experiencing one of the most popular children's books ever written.
Created by Jonathan Rockefeller, directed by Naomi Edwards and with 75 magical puppets created by New York's Puppet Kitchen – a timeless classic for all generations!
NOTE: For all enquiries and further information contact the ICC Ticketing Office (details above).