The Council is required by law to consult with residents and ratepayers about certain aspects of its business. It encourages debate and viewpoints on all consultation documents as this helps the Council to make the best decisions possible based on the facts and research available at the time.
Long-Term Plan 2015-2025
The Invercargill City Council produces a 10-year plan which sets out all the projects and services Council will deliver. This plan is reviewed and updated every three years. Council has produced a Consultation Document to cover the key issues in the Long-Term Plan 2015-25. You are invited to provide your feedback. Submissions open on Saturday 25 April and must be received by Council by 5pm, Monday, 25 May 2015. Submissions can be returned by:
Deliver to: Civic Administration Building , 101 Esk Street, Invercargill
Email to: policy@icc.govt.nz
Post to: Submission LTP, Invercargill City Council, Private Bag 90104, Invercargill 9840
Remember to let us know if you wish to speak to the Mayor and Councillors about your submission. Hearings will be on the 28 May and 29 May 2015.
---
Revenue and Financing Policy and 2015/16 Fees and Charges
In addition to the Consultation Document, Council is also consulting on its 2015/16 Fees and Charges and its proposed Revenue and Financing Policy.  You are invited to make submissions on either of these.  Submissions need to be received by Council by 5pm, Monday 25 May 2015.
Supporting documentation
Related and supporting documents and links are available on this page including links to asset and activity plans..
---
Kakapo and Tuatara proposal
An application has been received to construct enclosures for the housing and display of Kakapo and Tuatara on the north side of The Southland Museum and Art gallery. This will require an amendment to the Queens Park Management Plan and Council is calling for submissions on the proposed amendment.
The purpose of the amendment is to allow for the construction of an enclosure, adjoining to the north of the museum, which will be used to house tuatara and kakapo, while also providing a public experience, as per Policy 4.1 (Requests for Development on Reserves) of the 2011 Queens Park Management Plan.
The proposed development is available for inspection at the Parks Division Office, Queens Park; the Invercargill City Library, Dee Street or the Invercargill City Council Help Desk on Esk Street and this website (see below).
Submissions must be received by the Parks Manager by 4pm on Friday, 8 May 2015. Please forward your submission to: the Parks Manager, Invercargill City Council, Private Bag 90104, Invercargill.
Dog Control Bylaw and Dog Control Policy
The Invercargill City Council is in the process of changing the Animal Control Bylaw and Dog Control Policy. These documents will be open for public consultation on Saturday, 4 April. The links below will take you to the new documents and the submission form, as well as the existing policy and bylaw.
---
Consult South resource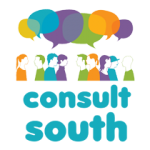 Consult South provides links to public consultation information supplied by Environment Southland, Gore District Council, Invercargill City Council, Southland District Council and Venture Southland. The logos act as links to the organisations' home pages and, when applicable, additional links to specific pages with full details about the consultations are provided.
---
Earlier consultations
Taha – storage of hazardous substances
 Taha Asia Pacific Limited has applied for resource consent to store 11,400 tonnes of Ouvea Premix for a five-year period at 9 Matheson Road, Kennington. Ouvea Premix is classified as a Class 6 Poisonous Substance under the Invercargill City District Plan. Submissions closed on 18 March 2015.  Related documents:
Draft Otago-Southland Regional Land Transport Plans
Southland and Otago residents had until Friday, 6 March 2015, to make submissions on the Draft Otago Southland Regional Land Transport Plans 2015-2021. Environment Southland and the Otago Regional Council have joined forces to create a single document that looks at the transport challenges facing both regions and the best way to align roading programmes. The plans include all proposed State Highway and council projects for Southland and Otago for the next six years. To get national funding over the next three years a transport project must be included in the plans.
Copies of the plans are available on the Environment Southland website. Hearing dates and locations are yet to be confirmed, but are likely to take place in the week beginning 16 March 2015. Copies of the final documents will be made available in August.
Rugby Park
Council invites people to have their say about proposed options for the Southland Outdoor Stadium (Rugby Park). Submissions closed on February 13, 2015.
The Southland Outdoor Stadium Trust is facing cash flow difficulties due to the impending repayment of loans to both the Community Trust of Southland and Rugby Southland, and maintenance costs for the Stadium.
Three options addressing the future of the Southland Outdoor Stadium have been presented to Council and it is seeking feedback by written submission on their preferred option.
Key documents
Extracted sections from the full consultation document:
Representation Review Advisory Panel
Council is looking for six local people to engage with the public and sit on an Advisory Panel for the Council's 2015 Representation Review. The review includes how Councillors are elected and the need for Community Boards. Written expressions of interest referring to the skills listed above must be received by 5pm on Friday 13 February 2015, addressed to: The Manager – Strategy and Policy Invercargill City Council 101 Esk St Private Bag 90104 Invercargill 9840
Rating Policy for Maori Freehold Land
The Invercargill City Council has developed its Rating Policy for Maori Freehold Land. Submissions closed on Friday, 16 January 2015. Related documents
Subdivision: 41 Retreat Road
Resource consent is sought for subdivisions of 10,360 sq metres, 4372 sq metres and 4344 sq metres in the Rural Sub-Area (41 Retreat Road). The proposal includes construction of a sewer main along Retreat Road which will either be vested in the Council or retained in private ownership by the applicant. Submissions closed on December 12, 2014; note that a copy of a submission must also be served on the applicant. The documents:
Regional Public Transport Plan
Submission are invited on the Regional Public Transport Plan which establishes how Council intends to achieve an affordable, integrated, safe and sustainable land transport system. Related documents are listed below; submissions closed on December 5.
Uncalled capital: consultation reopened
Invercargill City Councillors have approved reopening the consultation process and the issuing of a Clarification Document. This Clarification Document outlines changes to the original proposal document; the practicable options under consideration; the implications of each option; and clarification of issues that had caused some public confusion. Public submissions on the uncalled capital proposal closed on Friday, November 14, 2014.