The Council consults with residents and ratepayers about certain aspects of its business. It encourages debate and viewpoints on all consultation documents as this helps the Council to make the best decisions possible based on the facts and research available at the time.
Current ICC consultations and surveys
Fire Prevention (Vegetation) Bylaw Review 2017
The Invercargill City Council is in the process of reviewing bylaws that were enacted in 2010. Council has bylaws that are required under the Local Government Act 2002 and these must be reviewed regularly.
The Fire Prevention (Vegetation) Bylaw addresses the need to prevent fires from spreading and control any nuisance that may arise from smoke or ash within the City.
The Government is restructuring the existing fire service, and as such, Council's role in the future in relation to fire prevention and control will be limited. This bylaw may not be required once this restructure, which is expected to occur over the 2017-2018 years, has been completed. Council proposes to extend this current bylaw with no changes required, and then review this again once the Fire Service has been restructured to either amend or revoke the bylaw.
Submissions open on 23 June 2017 and can be made online at www.surveymonkey.com. They close on 28 July 2017.
Further information:

The bylaw is available on the ICC website or by emailing policy@icc.govt.nz.
Hard copies of the existing bylaw are available at the Civic Administration Building Help Desk, the Invercargill Public Library or the Bluff Service Centre.
For more information regarding the restructuring of the Fire Service visit this website: www.dia.govt.nz/Fire-Services-Review
Consult South resource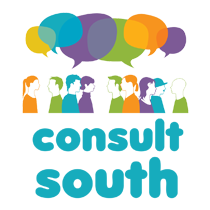 Consult South provides links to public consultation information supplied by Environment Southland, Gore District Council, Invercargill City Council, Southland District Council and Venture Southland. The logos act as links to the organisations' home pages and, when applicable, additional links to specific pages with full details about the consultations are provided.
Earlier consultations
Bus Services survey for householders
The Invercargill City Council consulted on the city's bus services via a household survey (one survey to be completed by each participating household). The survey closed on Monday, 15 May 2017.
Fee changes for Commercial Buildings
The Council consulted on a proposed change to the fees charged for the second or subsequent Certificates of Public Use (CPU) for Commercial Buildings issued under the Building Act 2004, which would see it rise from $350 to $5000.
Surrey Park classification
Invercargill City Council, as the administering body of Surrey Park, proposed that the acquired areas taken under section 40 of the Public Works Act, more particularly identified as 0.6890ha, being section 3 SO 480427 and Lot 2 DP 5294 (ex Surrey Park School site), be designated as Recreation Reserve.
2017-2018 Annual Plan
Invercargill City Council's Annual Plan for 2017/18 represents the third year of the Long-Term Plan 2015-2025 (LTP). People were invited to submit on any of the content that was included in the LTP, as well as the content included in the consultation document. Consultation closed on 22 March 2017.
Teviot Street Reserve freehold proposal

The Council proposes that the Teviot Steet Reserve status be revoked to freehold the land for sale. Submissions on the proposal closed on Friday, 3 March 2017.
Easter trading hours
Government has provided Council with the powers to allow shops to open on Easter Sunday. The Council sought feedback to see if that was something that retailers, restaurateurs and the general public would be interested in seeing changed. The related online feedback closed on 30 September 2016. Council determined not to develop a policy.
Emergency Management
Increasing Southlanders' awareness of natural hazards in their area is one of the goals set out in Emergency Management Southland's draft Group Plan. Submissions on the Plan closed on 16 September 2016.
Fortuna Group
The Group wants to construct and operate a dairy hub within the Rural Sub-Area. The hub will include a contracting yard and depot, a light engineering and maintenance workshop, staff accommodation, and an administration office for a maximum of 15 staff. Submissions closed 16 September 2016.
Glengarry Crescent: proposed exchange of reserve land
The Invercargill City Council Parks Department currently occupies an area of Council land for a playground at Glengarry Crescent and intends to take over this land and classify it as a reserve by exchanging the land for the existing reserve land on the outside of the crescent. Submissions closed on 24 August 2016.
Proposal to freehold land at Chesney Street Reserve
Notice is given pursuant to Section 24(1)(b) of the Reserves Act 1977 that the Invercargill City Council as administering body of Chesney Street Reserve proposes that the reserve as more particularly identified as 1166m², being Lot 19 DP 11128, be revoked. The reason for the proposed revocation is to freehold the land for the purposes of sale. You are invited under Section 24(1)(b) of the Reserves Act 1977 to lodge written submissions on the proposal. Please forward your submission on either of the above proposals to the Parks Manager, Invercargill City Council, Private Bag 90104, Invercargill 9840. Submissions closed on Wednesday, 24 August 2016.
Library Layout Proposal 2016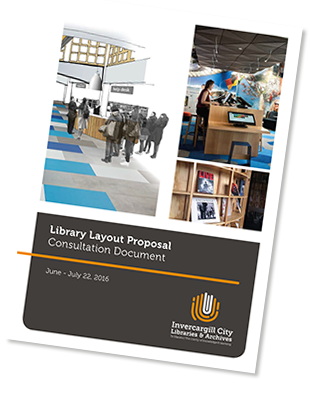 The Invercargill City Library started a consultation process two years ago and has come up with a proposal it would like to get underway in January 2017. The proposed changes:
Submissions closed on Friday, 22 July 2016
Surrey Park
The Council is reviewing the 2004 Concept Plan for Surrey Park before making decisions on further developments. Written submissions closed at 4pm on Friday 8 July 2016.
Annual Plan 2016-2017
Submissions on Invercargill City Council's Annual Plan 2016-2017 closed at 5pm on Friday, 8 April 2016.
Cook Islands Christian Church
The Cook Islands Christian Church Invercargill (Southland Branch) Society has applied to operate a Church Community Centre at 250 McQuarrie Street, Invercargill (formerly Elston Lea School). Submissions closed on 3 March 2016.
Proposed Parking, and Roading and Traffic, Bylaws
In a review of the current bylaw used to enforce parking and road use, a number of items were identified as needing to be changed to make the bylaw more effective and less confusing. The Council will repeal that bylaw and introduce two new bylaws: one for Parking and the other for Roading and Traffic. Submissions on the proposed bylaws closed on 29 January 2016.
NOTE: Fixed signwriting on a motor vehicle is exempt from the proposed Roading and Traffic Bylaw when the vehicle only includes the name and location of the business and the range of services provided. Click for details.
Variations to the Proposed District Plan
During the Hearings process, a number of issues have been raised relating to the Proposed District Plan that are not able to be addressed through decisions. The Variation process is now being used to address these matters. The Variation process allows the Council to consider changes to the Proposed District Plan before the plan is made operative. The community is able to get involved and voice support or opposition to the changes through submissions. There are currently eight variations that cover a range of issues. The submission and Further Submission periods have closed and a hearing is to be held on these Variations in March 2016.
Myross Bush Reserve: Proposed Exchange of Reserve land
The Council wishes to exchange land located at 238 Mill Road North, Invercargill including the hall and sports grounds for adjoining land located at 275 Drysdale Road. The land proposed for exchange will be classified as recreation reserve as per the Rural Reserves Omnibus Management Plan Policy 5.5.7 "Development" (page 57). Following this exchange of land Council subsequently wishes to dispose of land located at 275 Drysdale Road as advertised through the Long Term Plan as part of the ICC Parks Strategy 2013. The reason for this is because it is not currently being used for reserve purposes and is undeveloped. Submissions closed at 4pm on Friday, 16 October, 2015.
Representation Review 2015: Initial Proposal
Council is now consulting residents in Invercargill and Bluff about how they want to be represented on the Invercargill City Council in the future. The recommendations would see no changes made to the Council representation arrangements from the 2010 and 2013 elections. It is proposed that:
Councillors will be elected "at large", meaning all electors can vote for any candidate they choose. There will not be a ward system.
Twelve Councillors will be elected to represent the entire City.
Council will retain the Bluff Community Board, with five elected members and one Councillor appointed by the Council.
Documentation included: Initial Proposal and Report of the Independent Panel.  Submissions closed at 5pm on Tuesday, September 8.
Subdivision – 469 North Road
The Invercargill City Council has received applications for resource consents (subdivision and land use) relating to 469 North Road, Invercargill. Written submissions closed on Wednesday, 29 July 2015.
Gambling venues
The Invercargill City Council Council has reviewed its Class 4 Gambling Venues Policy and created a separate TAB Gambling Venues Policy. Submissions on the proposed changes closed on 20 July 2015.
Representation Review 2015
The Representation Review, conducted every six years,  is a chance to have a say in how the City's Councillors are elected, how many Councillors there are in total and whether there should be community boards in certain areas. Submissions on the 2015 review  closed on 17 July 2015.
Long-Term Plan 2015-2025
The Invercargill City Council's 2015-2025 Long-Term Plan was adopted by Councillors at an extraordinary Council meeting on 30 June 2015.  A rates increase of 3.89% for the year 2015/2016 was approved. Two versions of the plan are available on the ICC website: the full plan as a single document and the component sections (eg Fees and Charges) as separate files. The link: Long-Term Plan 2015-2025. Council produced a Consultation Document covering the key issues in the Long-Term Plan. Submissions opened on Saturday 25 April and closed at 5pm on Monday, 25 May 2015.
Kakapo and Tuatara proposal
An application has been received to construct enclosures for the housing and display of Kakapo and Tuatara on the north side of The Southland Museum and Art gallery. This will require an amendment to the Queens Park Management Plan and Council called for submissions on the proposed amendment. Submissions closed at 4pm on Friday, 8 May 2015.  Related document:  SMAG Tuatarium and Kakapo Proposal (6MB pdf)
Dog Control Bylaw and Dog Control Policy
The Invercargill City Council is in the process of changing the Animal Control Bylaw and Dog Control Policy.  Submissions closed on 8 May 2015. Related documents: Proposed Dog Control Bylaw and current Animal Control Bylaw, Proposed Dog Control Policy and current Dog Control Policy, Statement of Proposal – Dog Control, General information about dogs.
 Taha – storage of hazardous substances
 Taha Asia Pacific Limited has applied for resource consent to store 11,400 tonnes of Ouvea Premix for a five-year period at 9 Matheson Road, Kennington. Ouvea Premix is classified as a Class 6 Poisonous Substance under the Invercargill City District Plan. Submissions closed on 18 March 2015.  Related documents: Taha – Land Use application, Taha – Corrections, Taha – Application – further details
Draft Otago-Southland Regional Land Transport Plans
Southland and Otago residents had until Friday, 6 March 2015, to make submissions on the Draft Otago Southland Regional Land Transport Plans 2015-2021. Environment Southland and the Otago Regional Council have joined forces to create a single document that looks at the transport challenges facing both regions and the best way to align roading programmes. The plans include all proposed State Highway and council projects for Southland and Otago for the next six years. To get national funding over the next three years a transport project must be included in the plans. Copies of the plans were are available on the Environment Southland website.
Rugby Park
The Council invited people to have their say about proposed options for the Southland Outdoor Stadium (Rugby Park). Submissions closed on February 13, 2015. Related document: Rugby Park Consultation Document. Extracted sections from the full consultation document: Rugby Park – Background to Proposal, Rugby Park – Council analysis of the options, Rugby Park – Consultation details
Representation Review Advisory Panel
The Council sought six local people to engage with the public and sit on an Advisory Panel for the Council's 2015 Representation Review. Written expressions of interest closed at 5pm on Friday, 13 February 2015. See this document for more details about the review, the review process and what is expected from panel members.
Rating Policy for Maori Freehold Land
The Invercargill City Council has developed its Rating Policy for Maori Freehold Land. Submissions closed on Friday, 16 January 2015. Related documents: Maori Land proposed policy. Rates Postponement Policy, Rates Remissions Policy.`
Subdivision: 41 Retreat Road
Resource consent is sought for subdivisions of 10,360 sq metres, 4372 sq metres and 4344 sq metres in the Rural Sub-Area (41 Retreat Road).Submissions closed on December 12, 2014. Related documents: Application, Short application, Further information and Scheme plan.
Regional Public Transport Plan
Submission were invited on the Regional Public Transport Plan which establishes how Council intends to achieve an affordable, integrated, safe and sustainable land transport system. Submissions closed on December 5, 2014. Related documents: Statement of Proposal, Regional Public Transport Plan 2012-2015.
Uncalled capital: consultation reopened
Councillors approved reopening the consultation process and the issuing of a Clarification Document. The Clarification Document outlined changes to the original proposal document; the practicable options under consideration; the implications of each option; and clarification of issues that had caused some public confusion. Public submissions on the uncalled capital proposal closed on Friday, November 14, 2014. Related documents: Clarification, Holdco Group Debt Facility Forecast by Quarter for Council