Drive up, jump out, dive in! The Southland Aquatic Centre – Splash Palace – is one of the top public pool facilities in New Zealand. The indoor aquatic centre is within walking distance of the central business district and close to a large selection of motels and parks. The facility includes a 50m x 8 lane sports pool with a bulkhead, a leisure pool with waves and sprays, a tots' pool and a learners' pool. There is also a water slide, spa pool, sauna and Waves Cafe – all indoors and with free off-street car parking.
Events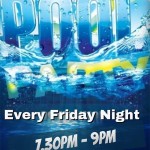 Friday nights
are party nights
at the Palace.
Just click the pic
for all the details!
August
Southland Waterpolo Training Camp/tournament with Dunedin
Saturday, August 6 and Sunday, August 7
Deep end of main pool closed – Saturday 10am to 7pm, Sunday 9am to 3.30pm
Swim Southland Winter Meet
Saturday, August 13
Deep end of main pool closed 2pm to 7pm
Friday, August 26 to Sunday August 28
South Island Swimming Champs
Deep end of the main pool closed at these times:
Friday 7.30am to 1pm and 3pm to 9pm
Saturday 7.30am to 1pm and 3pm to 8pm
Sun 8.30am to 1pm and 4pm to 8pm
Limited lane swimming. Aqua jogging and no hydroslide available during other times.
NOTE: No lane swimming or aqua jogging available on Friday from 10am to 1pm.
September
Friday night water polo
Friday, September 2
Friday night water polo starts 3.30pm.
NOTE: Very imited lane swimming and aqua jogging space.
Southland Winter meet
Sunday, September 11
Deep end of main pool closed 8am to noon and 1pm to 5pm
School Holidays
Monday, September 26
Enrol for Splash Palace School Holiday Swim Lessons and diving programme; check the School holiday programme for activities.
Aqua classes
The Palace's new Group Fitness Instructor Virginia Pile is on board so from Monday, 1 February 2016, there'll be more aquatic classes on offer. The timetable is on the Palace's Facebook page.
Normal hours
50m pool, swirl pool and sauna
Monday to Friday       5.30am to 9pm
Saturday                   6am to 8pm
Sunday                     8am to 8pm
Public holidays        11am to 4pm (closed Good Friday and Christmas Day)
NOTES: Adults only in the swirl pool and sauna. Between 3.30pm to 9pm on weekdays there may be limited space due to aquatic sports clubs bookings.
Leisure Pool
Monday to Friday 6am to 9pm
Saturday and Sunday 8am to 8pm
Public holidays 11am to 4pm
Leisure Pool Waves, Sprays and Waterslide
Monday to Friday        3.45pm to 5pm, 7.30pm to 9pm
Saturday, Sunday       11am to 4.30pm, 6.30pm to 8pm
Learners'  Pool
Saturdays                   1pm to 4pm
Sundays                    11am to 4pm
School holidays         1pm to 4pm
Note For school holiday hours, activities and learn-to-swim classes ask at reception or check these pages.  The hours above may change from time to time due to special events, bookings and occasional maintenance closures.
School holiday dates
Check the school holiday dates (link is to the updated Ministry of Education website)