Invercargill Airport has won the best Public Architecture category at the 2017 Southern Architecture Awards. It also picked up a Resene Colour Award at the event, which was organised by the New Zealand Institute of Architects.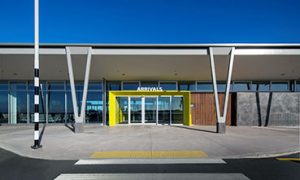 The judges said the airport design by architects Warren and Mahoney  was a "strong, simple form with local reference distinguished by exemplary planning and excellent way-finding."  They said the project had been executed "with admirable attention to detail".
On the Resene Colour Award the judges said: "A device as simple as choosing a lime yellow for the framing of the arrival and departure doors is so helpful to the first-time visitor to this new airport building. This is a good example of the intelligent use of colour to aid building performance."
Project architect Jeremy Dunlop, from Warren and Mahoney's Queenstown studio, said the design was originally inspired by the historic World War Two hangars located on the site, and the terminal building was designed in a low, curving form suggestive of a large aircraft wing "to capture the romance of flight". The terminal was designed on a structurally efficient grid to allow for the smooth processing of passengers and to allow for expansion by adding bays.
Invercargill Airport's General Manager, Nigel Finnerty, said the airport company had aimed to create a terminal building that Southland could be proud of. He said the  design award cemented the airport's win as the Regional Airport of the Year at last year's New Zealand Airports Conference.
The airport project had been one of "innovative thinking, engagement and most of all collaboration," Mr Finnerty said. "It has transformed the airport from a dated 1960s building to a modern, functional and practical gateway for Southland."
Image: Sarah Rowlands