Dog-owners who notify the Council's Animal Services team if their dog has been desexed will qualify for a reduced dog registration fee.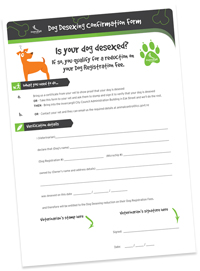 There are two ways to let Council know. Either you can bring us a certificate from your vet to show that the dog has been desexed or you can take a form to your vet and ask them to stamp it for you.
There's a link below to the Dog De-sexing Form  or forms can be picked up at the Help Desk of the Civic Administration Building at 101 Esk Street.