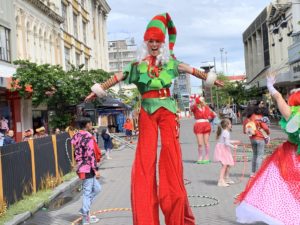 Invercargill City Council is excited to announce that we are now accepting stall holder and food truck vendor applications for Christmas Market in the CBD 2020.  Invercargill's City Centre will be a hive of Christmas activity on Saturday 5th of December 2020 when CBD Streets will be closed to traffic and will be filled with Food, shopping and entertainment from 10am to 2:00pm.
We are currently seeking expressions of interest for stallholders and food trucks for the event. You can register HERE.
The inner city retailers will be open too, so there will be something for everyone – a perfect chance to get those Christmas presents sorted in one place.
The Christmas Festival is always a hit with residents, providing a fun day out with the family. We hope to see you there!