Location
Argyle Park is located in the east end of the Bluff township and is bounded by the residential properties of Athelney Street, Gregory Street, Burrows Street and Tone Street.
Access
Pedestrian access is gained from all sides of Argyle Park
The roads surrounding Argyle Park provide adequate parking for vehicles using the reserve. Parking is provided for camping ground users.
General Park Use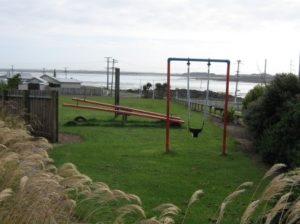 Argyle Park is used as a public park for active outdoor sport and recreation.
Visitors to the park use the camping ground for accommodation while holidaying in Bluff.
The grassed area of the reserve becomes an open space for public use, enjoyment and recreation at any time.
The playground is located along the Gregory Street frontage next to the camping ground.
Playground
Play equipment includes a double seesaw, a double swing and an early childhood swing.