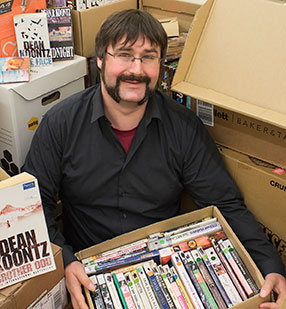 Are there gaps in your bookshelves or DVD racks? Round up your loose change, pop along to the Invercargill Public Library's annual Book Sale and grab some bargains!
The sale runs from Friday, 29 September to Friday, 6 October 2017. There will be something for all ages among the books, puzzles, games and DVDs on sale at prices ranging from 50c to $2.50.
Customer Experience Team Leader Donald Cunningham (pictured) said: "We would love to keep every book but we have to make space for new items. This is a great way to keep the items in our community while raising money to help keep the library alive."
Visit the library website for more information.