The new 13.5m Bluff Coastguard rescue vessel, still on target to start sea trials off the Canterbury coast in August, promises to be a rather special vessel.
For a start it's a jet boat featuring two Hamilton Jet units with a Blue Arrow electronic manoeuvring system and powered by a pair of 500hp Yanmar diesel engines.
The new vessel is also about 10 knots faster and more manoeuvrable than the current boat – two factors that on a mission could mean the difference between life and death.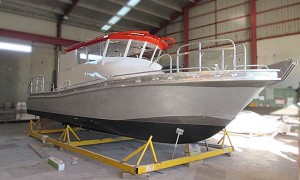 The boat is designed to last for 25 years and plenty of future-proofing features are being built in, particularly in terms of internal ducting. This will allow Bluff Coastguard to add enhancements when new technology, possibly in the fields of fire-fighting and electronics, has proved itself – and when funding is available.
Another possible future enhancement: GPS capability can be added, allowing the Hamilton Jets to keep the craft over a specific location (such as the site of a shipwreck) despite the forces of tide and wind.
The vessel was designed by naval architect Tim Barnett and is being built by Icon Custom Boats Ltd in Rangiora after boat builders from around the country, including four from Southland, were invited to tender.
Bluff Coastguard president Andy Johnson said the vessel's windows are now in place and the rub rail around the boat will be installed shortly. "The engines were fitted last week," he said, "and we are still looking on target to start sea trials in early August." The rescue craft is capable of carrying 12 passengers and four crew under cover.
The naming and launch of the 12.2 tonne vessel in Bluff Harbour in September will mean much joy and perhaps almost as much relief for Mr Johnson, a Senior Building Code Inspector with the Invercargill City Council, who has been driving the project for the past eight years.
Mr Johnson and his wife Sandy have been working about 40 hours a week on the project. "It's like having a second job," he said. "It's all the little things … even the smallest items that go into the boat require a lot of research."
He was full of praise for the fundraising team of Dave Connor, Cam McCulloch, Debra Turnbull, Dominique Leeming, Jon Turnbull, Lara Stevens, Malcom Lawson and Roger Wilson.  "We would never have managed to raise the money so quickly if it wasn't for their knowledge and enthusiasm," he said.
Sponsors and donations
Sponsors and the Southland community stumped up $1.2 million for the vessel. Donations from the fishing fleet, the muttonbirding community and the public totalled about $200,000 – and are still trickling in (including an anonymous donation of $10,000). The Lotteries Commission stumped up $300,000, the single largest grant. Other sizeable grants and donations included:
Perpetual Trust $200,000
Bluff Coastguard $150,000
Environment Southland $100,000
Invercargill City Council $50,000
ILT Foundation $50,000
Foveaux Strait Memorial Trust $20,000
SouthPort $20,000
NOTE: Bluff Coastguard's current vessel, NZAS Rescue, is more than 20 years old and near the end of its search and rescue life. Bluff Coastguard plans to sell it.