After several years of travelling elsewhere to sail, Southland Trailer Yacht Squadron life member Colin McDonald is looking forward to sailing in Bluff Harbour once again.
The current boat ramp at Bluff, which was once all-weather, all-tide, has deteriorated and is no longer suitable for him to launch his yacht from so he mostly travels to Te Anau when he wants to take his boat out.
Invercargill City Council committed in its Long Term Plan to upgrade the Bluff Boat Ramp as part of the Bluff Tourism Masterplan, which also includes the Bluff Hill Motupōhue Active Recreation Precinct.
McDonald, along with several other boat enthusiasts, is assisting the Invercargill City Council with designs for a new ramp and floating pontoons in place of the current ramp at Bluff.
Plans are coming together to build a new boat ramp and two floating pontoons either side that will be able to withstand all weather, including the howling westerly winds that often obstruct boaties coming into Bluff Harbour.
Council has engaged with the Bluff community, Bluff Yacht Club, Recreational Fishermen and Southland Trailer Yacht Squadron to determine the needs of users and the design that would best fit everyone using it.
McDonald said it was important to get the opinion of people who will actually use the facility, to get it just right.
"It's about getting boats out of the water safely. It's not so much of a problem for powerboats to just drive on to the back of trailers, but it's not possible for trailer yachts."
It was exciting to be able to have a say on what the new set up would look like, and he was looking forward to getting back into Bluff waters.
"It will most likely draw people back to sail in Bluff. We're trying to return to the community the benefits from all those years ago."
Council Programme Director Lee Butcher said the steering group was currently in discussions to make sure the ramp and pontoons were placed in a way that would benefit everyone.
"We are being very careful to make sure this facility will be functional for all users, from those with dinghies to those with pleasure crafts.
"We're so pleased to be able to deliver this for the Bluff and Southland communities. Once it is finished, I'm expecting it to be a drawcard for boat users all over the country."
Butcher said consent had been granted for the east jetty, including the boat ramp, but Council was still in the process of gaining consent for the west jetty.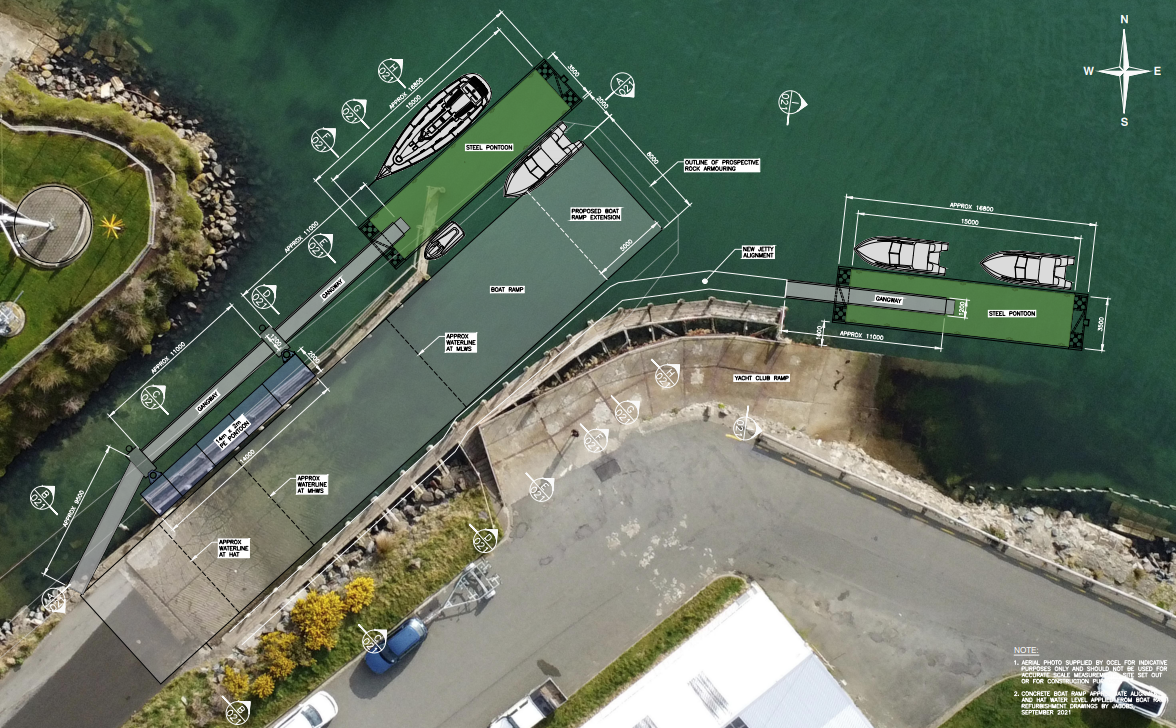 An early design of what the Bluff boat ramp could look like. 
Engineering consultancy Offshore & Coastal Engineering Ltd (OCEL) have come on board for the design and implementation of the ramp and pontoons.
The floating pontoons will feature safety lights, an electrical outlet and a tap with fresh water.
The pontoons have been designed to withstand the harsh weather Southland is known for, and because they are floating they will rise and fall with the tide, no matter how extreme, Butcher said.
"OCEL designed the floating pontoon on Ulva Island and anyone who has travelled there will know how rough conditions can get there, so I am confident that the team will deliver something equally as impressive for Bluff."
Geotechnical investigations had recently been completed, which examined the physical qualities of the site to ensure it was suitable and safe to complete the work proposed, Butcher said.
Bluff Community Board Chairman Ray Fife said he was pleased the project was beginning to make headway.
"It's been a bit frustrating waiting for the project to progress but I'm pleased to see some significant advancements being made now. I look forward to seeing the end result and more boaties making the most of the stunning southern scenery."
The ramp will still be able to be used for most of the work, however, boaties may be directed to the ramp on Foreshore Rd on the other side of the South Port bridge while some of the more intensive work takes place.
Preliminary concept designs had been developed but as discussions continue it was expected that the concept may change, Butcher said.