UPDATE: On 5 November 2018 BusSmart bus fares changed.
A bus fare paid by cash is $3, with a bus fare paid by a BusSmart card is $2. These fares apply for all BusSmart City Routes and BusSmart School Routes throughout each day (Monday to Saturday).
These fares are for all passengers: Adult, Child (5-15 years old) or Senior (60 years+) however under-5s are still free, as are SuperGold Card-holders (travelling between 8.55am and 2.55pm). Check the details on this flyer.
SuperGold card-holders receive FREE off-peak travel IF the holders also have a BusSmart card (the cards will be swiped but no fares will be deducted).
One Free Transfer between bus services within an hour of the ticket being purchased (with the presentation of your ticket to the driver).
BusSmart Cards are free for a limited time (usually $5) so if you don't already have one, see your BusSmart driver for a new BusSmart card today.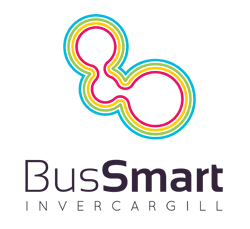 The fare changes were approved as part of the Regional Public Transport Plan and Long-term Plan process. Part of the development of the plans had identified that Invercargill's fares were difficult to understand, and in some ways were less fair for some users given the volume of passengers and travel patterns in Invercargill.
The fares have not changed in the last two years and it has been recognised that this change will impact some users more than others.
Current fares and related information