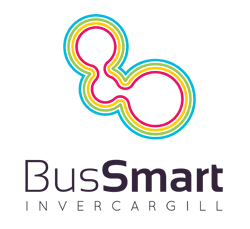 The four routes of the Bus Smart service provide city-wide coverage (details below). Links to school bus routes are also available on this page. The four main routes begin and end at Bus Smart Central outside Reading Cinemas in Dee Street. All Bus Smart buses have free Wi-Fi, an on-board information system and bike racks.
Timetable: The Bus Smart services leave Bus Smart Central in Dee Street every 45 minutes from 6.45am to 6pm Mondays to Fridays, and from 10.30am to 3pm on Saturdays. There are no services on Sundays and public holidays. See the four individual routes (links at left) for more details.
Temporary move for H&J Smith bus stop
The Bus Smart bus stop outside H&J Smith on Tay Street has been moved to outside St John's Anglican Church, effective immediately,  because of the stormwater and sewerage pipe renewal and resulting road works at the intersection of Nith, Tay, and Kelvin Streets.
The move, which is temporary and is expected to last about six weeks, enables buses to complete turns on to Tay Street safely and to be able to park safely while collecting passengers.
We apologise for any inconvenience this may cause. – 20 February 2018
Track YOUR bus!
Just where is YOUR bus? How long will it take to get to YOUR stop? Now you can use your computer, cell phone, smartphone or other tech device to get information about when the next bus will arrive at your stop. The TrackaBus service uses Global Positioning System (GPS) hardware and wireless communications technology to track and report the real-time location of buses. The links:
Bus Smart Cards
There is a one-off $5 fee for a Bus Smart Card but the card entitles you to a 10 per cent discount on fares. See the Bus Smart Card page for more details.
Print your own Bus Smart route maps
Fares
Bus Smart card users receive a 10% discount on all fares.
Super Gold Card holders receive FREE off-peak travel IF the holders also have Bus Smart Cards (the cards will be swiped but no fares will be deducted).
Cross-city fares are for two trips within one hour.
The off-peak times for all routes are from 9am to 2.55pm on weekdays and from 10.30am to 3.40pm on Saturdays.
Passenger categories

Current fares

Under 5 years
– Peak

Free

– Off peak

Free

– Cross-city

Free

Child ( to 15 years)
– Peak

$2.10

– Off peak

$1.60

– Cross-city

$2.60

Adult
– Peak

$3.00

– Off peak

$1.60

– Cross-city

$3.60

Senior citizen
– Peak

$2.10

– Off-peak

$1.60

– Cross-city

$2.60

Super Gold Card
– Peak

$2.10

– Off-peak

Free

– Cross-city

$2.60
School routes
Maps and details of the schools service are available in the following printable files. There is a 10 per cent reduction for students who use Bus Smart Cards. The schools service resumes on Tuesday, 30 January 2018.
School bus routes:
• Clarendon School Route
• Clifton School Route
• Hargest School Route (afternoons)
• Newfield School Route
• Waikiwi School Route
• Windsor School Route