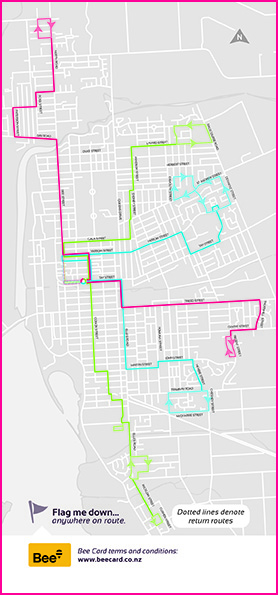 Council is introducing new bus routes and a new timetable for Invercargill on Monday 24 May 2021. These routes are in response to user feedback, and will operate at more convenient times, and have a shorter travel time.
Our surveys have highlighted these as key issues and the changes are planned to improve the services.
We will now have 6 routes servicing the city, with the bus travelling mostly in both directions along the same routes. This will make it quicker and easier for people to get around Invercargill on the BusSmart City buses.
New bus route maps
Temporary bus hub
The bus hub will relocate to Tay St, near the Civic Theatre, view the BusSmart departure locations map. Look for the bus route sign posts along Tay St.
---
There are 15 runs each week day commencing 7.20am, with the early morning runs operating every 30 minutes, the runs in the middle of the day operating every 60 minutes, and the late afternoon runs operate every 30 minutes with the last service leaving the hub at 5.20pm.
For Saturday services see the timetable.
---
---
A significant number of bus stops will be affected with the route changes, and the majority of the new stops will be in place by 24 May, but please remember that you can hail the bus driver anywhere along the route, provided it is safe for the bus to stop in the location.
The relocation of the bus shelters not on the new routes will be progressively undertaken over the next months.
---
Please note that the afternoon school bus service "Hargest Express" will cease on Friday 21 May 2021. All of the other BusSmart School services that operate in the mornings and the afternoon during school terms remain unchanged.