THE ROUTE: Departs Bus Smart Central, Dee St, Yarrow St, Isabella St, Tay St, Inglewood Rd, Tweed St, Thornhill St, Centre St, Regent St, John St, Newbie St, Tramway Rd, Pomona St, Centre St, Lime St, Tweed St, Nith St, Kelvin St, Don St, Dee St, returns to Bus Smart Central.
Click on the image link below to view or print the Heidelberg Star route map.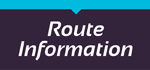 Notes
The cross-city fare lets you take two trips within the hour.
Bus Smart card users receive a 10% discount on all fares.
Super Gold Card holders: FREE  off-peak travel IF the holders also have Bus Smart Cards (the cards will be swiped but no fares will be deducted).
Timetables

Texting to get times for YOUR bus stop
All Invercargill bus stops are numbered; the number is at the top of each bus stop sign. Simply text that number (for example 160) to 022 4 MY STOP (022 4 69 7867). A return text will be immediately sent to your phone letting you know an estimated time for when the next two buses are expected at that bus stop. This is not a text cost service – but your network text charges will apply.
| | |
| --- | --- |
| Monday-Friday | Saturdays |
| Depart Bus Central | Depart Bus Central |
| 6.45am | 10.30am |
| 7.30am | 11.15am |
| 8.15am | Noon |
| 9.00am | 1.30pm |
| 9.45am | 2.15pm |
| 10.30am | 3.00pm |
| 11.15am | |
| Noon | |
| 12.45pm | |
| 1.30pm | |
| 2.15pm | |
| 3.00pm | |
| 3.45pm | |
| 4.30pm | |
| 5.15pm | |
| 6.00pm | |