The Invercargill City Council's property arm is beginning the development of a commercial building on the site of the former Todd's Auction rooms in Don Street.
Council's Chairman of Finance Cr Neil Boniface said the planned business house was an exciting development and showed Council was prepared to show leadership and invest in a commercial project that would help keep people in the inner city.  It also tied in well with Council's CBD redevelopment. The new commercial building will be built over three levels, with an area of approximately 3500m².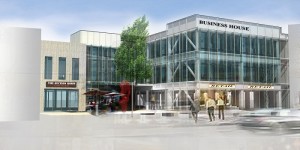 The Council has already secured four anchor tenants for the development.  They are: McCulloch and Partners accountancy firm, Cruickshank Pryde law firm, Three Bean Café and Craigs Investment Partners.
Further tenants for the property were still being sought, he said.
"Three major professional companies and a well-established, popular café, mean that we have high-calibre tenants that are committed to Invercargill.  It's a fantastic start."
Cr Boniface said that design work on the building was already underway and the aim was to have the building completed by July 2017.  The building was being designed by Invercargill firm, McCulloch Architects.
"As well as helping to revitalise the inner city by keeping the people employed by these four major businesses in the centre of town, the commercial returns from the building will provide benefits to ratepayers by helping to offset rates.
"This building came about via an approach from Mark Bain, managing partner of McCulloch and Partners, who knew Council had land-banked the land when it was sold by the Todd family. Council considered it to be a strategic site because of its location right in the middle of the city centre and it shows the value of having the right piece of land available for development at the right time," Cr Boniface said.
Land for the building development was purchased in two transactions.  The first was 16 Don Street (Todd's Auction Rooms) which was purchased in 2014 with a land area of 3036m².   The second was 24 Don Street, which was purchased in July this year with a land area of 1012 m².
The building development will be funded by Council through endowment funds and loan funds.  For commercial reasons, the cost will not be made public until after the tender process and construction are finalised.
Cr Boniface said once the design was completed, tenders would be called for construction. "The preference is for an Invercargill-based construction firm, but this is reliant on cost and experience," he said.