This year marks a decade of international street performers and artists descending upon Invercargill to entertain and delight the city as part of the Southland Buskers Festival. HANNAH MCLEOD caught up with festival organiser Jodi Wright to look back on the last ten years, and find out what's in store for 2019.
EVERY year for the past ten years, some of the world's best buskers have enthralled, surprised, and charmed Invercargill residents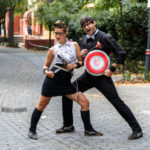 and visitors to the city with their talents.
We have Christchurch-based Jodi Wright to thank for our wonderful Southland Buskers Festival, which she has curated since its inception.
Mrs Wright was one of the founders of the World Buskers Festival, held in Christchurch. The event, now managed by the Christchurch City Council, began in 1994, and is New Zealand's largest outdoor festival.
With the Christchurch event attracting international performers, Mrs Wright decided to attempt to introduce satellite festivals throughout New Zealand, with Invercargill on her target list.  "I was always envious of that beautiful park you have," she confessed.
Mrs Wright successfully approached various funders including the Invercargill City Council with a three year plan, and the festival grew from there.  "There are a lot of other smaller festivals," Mrs Wright said, "but Invercargill is the only other festival I still produce."
While not a performer herself – "I don't have any of those skills," she admitted, Mrs Wright's background is in "organising and parties" – much to her parents' frustration in her younger years.  She hand picks many of the acts, most of whom she has seen perform on her travels throughout the world.
Mrs Wright accompanies the performers to their southern-most stop, and fills the role of Camp Mother, while her husband, Peter, is the driver. "Invercargill isn't overly difficult [to attract performers to. "It's another part of New Zealand they get to see, and the audiences there are always generous with their applause. It's not so much about the money in the hat," she said.  "If you have money to give in the hat, that's great. If not, that's fine too. It's a gift to be able to perform in that beautiful park."
This year's Southland Buskers Festival includes performers from New Zealand, Portugal, Mexico, the United States, Israel, and the United Kingdom.  Mrs Wright said it was an incredibly eclectic group, with each act offering a different style, and all with plenty of entertainment promised.
The festival begins on Thursday, January 31, at 6pm in Queens Park, with performances continuing in the park, in Esk Street, and at the Southern Farmers Market at various times until Sunday, February 3.
To check out a programme and keep up-to-date on the latest information for the festival, follow the Southland Buskers Festival on Facebook: www.facebook.com/southlandbuskersfestival/