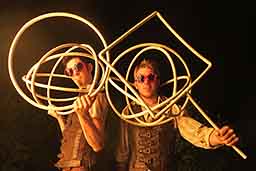 The seventh Southland Buskers Festival hits the streets and parks of Invercargill from January 28 to January 31 with a programme designed to suit everyone.
Download the festival programme
The full festival programme is available at the Venture Southland website and there are related links in the ICC website's Shows and Events section.
Juggling  workshop
There's also an open juggling workshop for aspiring jugglers conducted by  some of the best jugglers in the country. It starts at 10.30am on Saturday, January 30 at the Queen's Park pitch (Band Rotunda).  Interested? The organisers say bring something safe to juggle with –  juggling or tennis balls, oranges or apples  but nothing sharp!