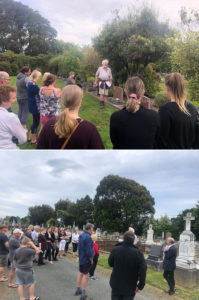 By Ricky Mulqueen
Cemetery Team Leader
On Sunday the Bluff History Group led a tour of Old Bluff Cemetery as part of our Cemeteries and Crematoria Week events. About 100 people turned up and were divided into two groups, with local historian Jan Mitchell and Bluff Maritime Museum Curator Trish Birch taking the tours.
We went from Bluff's (probably) most famous former resident in Joseph Ward, who was twice the Prime Minister of New Zealand, to sea captains, early settlers and local identities, to an unknown baby grave which is thought to be the first internment at the cemetery.
Fantastic weather on Monday brought about 30 people to Eastern Cemetery to join a tour led by Lloyd Esler.
We visited notable graves of former Mayors and other graves of interest including an American Civil War veteran, local hero Burt Munro, and local identity Sam Cusack.
Interesting Invercargill cemetery facts:
The first recorded burial at Eastern Cemetery was Grace Frindlay on November 14, 1861.
Eastern Cemetery and the Southland Crematorium cover approximately 40 hectares. ICC also looks after Greenpoint Cemetery, St Johns Cemetery, Bluff Cemetery, and William Stirling Reserve Cemetery.
The Southland Crematorium was built in 1977 and is the only crematorium in Southland. The next closest are in Dunedin and Alexandra.
We offer a Natural Burial Area at Eastern Cemetery. It's located within an area of tree and shrub plantings. The internments take place at a depth within the active uppder soil layer to promote decomposition and create a lasting legacy of flourishing plant life.
We have a headstone here at Eastern Cemetery with the following inscription that is a famous epitath from 18th century England: "Remember me as you pass by, as you are now so once was I, as I am now so you will be, so prepare yourself to follow me".