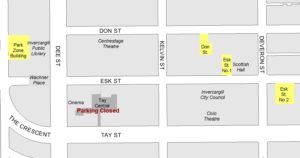 The car park in the middle of the City Block, between Tay and Esk Streets, is now closed to the public to allow for demolition preparation work.
We are recommending people looking for a great parking spot head to the Leven Street Car Park Building, or to one of the other close by car parks marked in yellow on the map.
Pedestrian access between Tay and Esk Street via Barclay Lane and the former Pumpkin Patch building will be maintained.
Invercargill Central Ltd are planning to begin building demolition in early January. They are also in the process of launching their website, where you can keep up to date: www.invercargillcentral.nz