Changes to the Total Mobility scheme will result in easier travel for clients and improved efficiency for transport operators from this weekend.
Total Mobility is a nationwide scheme that provides subsidised transport to people with impairments. The Invercargill City Council administers the scheme in Southland on behalf of Invercargill City, Gore District, and Southland District councils.
The scheme provides discounted fares for transport, and is available to people who have an impairment, which could be a physical, sensory, intellectual, neurological or psychological impairment and are unable to access transport without help or assistance.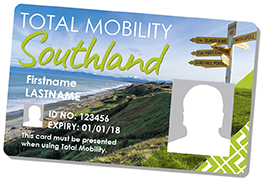 The Total Mobility scheme for Southland will change from Sunday, 1 July, with the introduction of a new Ridewise swipe card. This new card will replace an old sticker system.
Invercargill City Council Roading Manager Russell Pearson said the Ridewise card would make accessing the Total Mobility scheme subsidies simpler for clients, and improve efficiency for the transport operators.
Until now, clients were annually sent stickers in the post to be able to access subsidies from the transport operators.
"Stickers involved a lot of administration, were often misplaced or lost, and there was no way for transport operators to confirm the person who had the stickers were entitled to the subsidies," Mr Pearson said.
"The new card has a personalised photograph printed on it, which will enable the operator to confirm the person holding the card is eligible for subsidised travel, and has an expiry date of five years. This card will resolve many of the issues we presently have with the sticker system.
"It won't get damaged in handbags or wallets and people are now much more familiar with the use of swipe cards. Hopefully it will be a helpful ID card for clients."
Council staff have been in close communication with both current clients and transport operators, have received more than 1000 photographs to be printed on the cards, and will be sending out the new cards this week.
"We have appreciated all the help and efforts of the individuals and families who have arranged this, along with support from local agencies who have contacted their clients and assisted," Mr Pearson said.
For most clients, the scheme offers half-price fares for transport, up to a maximum subsidy of $25 per one-way ride. There is presently no limit on how often the subsidy can be used. The person travelling still needs to pay for the remaining 50 per cent of the travel cost at the end of the journey.
In Invercargill, the same transport operators will continue to offer the scheme and are ready to start swiping Ridewise cards on Sunday.
In Gore a new transport operator – Ezicab Gore – will offer the subsidised Total Mobility scheme with the new Ridewise swipecard. The previous provider will not continue to offer subsidies under the scheme.
More information on the Total Mobility scheme, including how to apply and a list of transport operators, is available on this page.