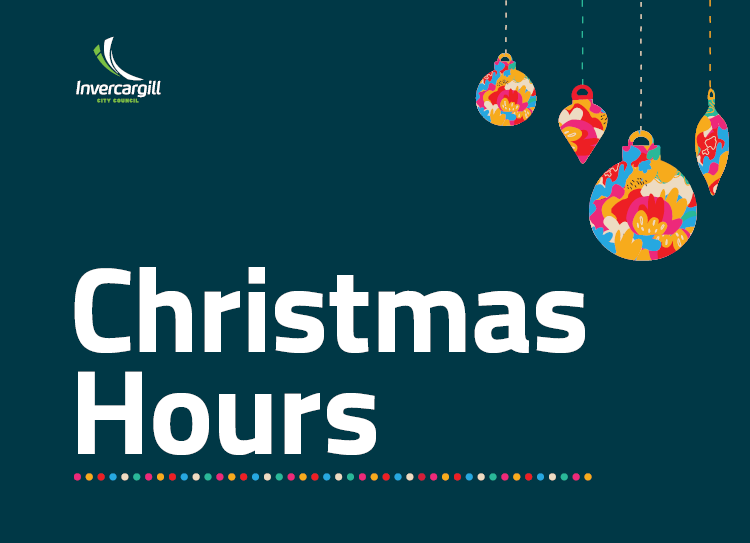 Refer to this page for up-to-date details on opening hours, service changes, and contact details for Council facilities over the 🎄 Christmas and 🎆 New Year period.
We hope you have a safe and enjoyable break!
☎️ Need to get in touch after-hours?
For urgent enquires after-hours phone (03) 211 1679 at any time.
Check below for a full list of the individual Council facilities:
Bluff Service Centre
Council Administration Functions

98 Gore Street, Bluff
(03) 212 8704

Friday 23 December

8.30am – 12pm

Saturday 24 December – Sunday 8 January 2022

CLOSED

Monday 9 January

Normal hours resume

NZ Post & Kiwibank


Friday 23 December

8.30am-5pm

Saturday 24 December

10am-1.30pm

Sunday 25 December – Tuesday 27 December

CLOSED

Wednesday 28 December

9am– 5pm

Thursday 29 December

8.30am – 5pm

Friday 30 December

8.30am – 5pm

Saturday 31 December

10am-1.30pm

Sunday 1 January – Tuesday 3 January

CLOSED

Wednesday 4 January


9am-5pm

Thursday 5 January – Friday 6 January

8.30am – 5pm

Saturday 7 January

10am-1.30pm

Sunday 8 January

CLOSED

Monday 9 January

Normal hours resume

Lotto


Friday 23 December

8.30am-5pm

Saturday 24 December

10am-7pm

Sunday 25 December – Tuesday 27 December

CLOSED

Wednesday 28 December

9am – 6.30pm

Thursday 29 December

8.30am-5pm

Friday 30 December

8.30am-5pm

Saturday 31 December

10am-7pm

Sunday 1 January – Tuesday 3 January

CLOSED

Wednesday 4 January

9am-6.30pm

Thursday 5 January – Friday 6 January

8.30am-5pm

Saturday 7 January

10am-7pm

Sunday 8 January

CLOSED

Monday 9 January

Normal hours resume
Bluff Public Library
bluff@ilibrary.co.nz
98 Gore Street, Bluff
(03) 212 6804


Friday 23 December

9am-5pm

Saturday 24 December

10am-1pm

Sunday 25 December – Tuesday 27 December

CLOSED

Wednesday 28 December –

Friday 30 December

9am-5pm

Saturday 31 December

10am-1pm

Sunday 1 January – Tuesday 3 January

CLOSED

Wednesday 4 January – Friday 6 January

9am – 5pm

Saturday 7 January

10am– 1pm

Sunday 8 January

CLOSED

Monday 9 January

Normal hours resume
BusSmart


Sunday 25 December – Tuesday 27 December

NO BUSES

Wednesday 28 December – Saturday 31 December

Saturday timetable


Sunday 1 January – Tuesday 3 January

NO BUSES

Wednesday 4 January

Normal bus service resumes
| | |
| --- | --- |
| Cemeteries Office | |
| Saturday 24 December – Tuesday 27 December | CLOSED |
| Wednesday 28 December – Friday 30 December | Normal hours |
| Saturday 31 December – Tuesday 3 January | CLOSED |
| Wednesday 4 January | Normal hours resume |
Civic Administration Building (CAB)
service@icc.govt.nz

101 Esk Street, Invercargill
(03) 211 1777


Friday 23 December

8.30am – 12pm

Saturday 24 December – Sunday 8 January

CLOSED

Monday 9 January

Normal hours resume
He Waka Tuia
hello@hewakatuia.nz
42 Kelvin Street, Invercargill
(03) 211 8408


Friday 23 December

10am – 12pm

Saturday 24 December

11am-2.30pm

Sunday 25 December

CLOSED

Monday 26 December – Tuesday 27 December

11am – 2.30pm

Wednesday 28 December – Friday 30 December

10am-5pm

Saturday 31 December – Tuesday 3 January

11am-2.30pm

Wednesday 4 January

Normal hours resume
Invercargill Public Library
help@ilibrary.co.nz
50 Dee Street, Invercargill
(03) 211 1444


Friday 23 December

9am – 6pm

Saturday 24 December

10am-1pm

Sunday 25 December – Tuesday 27 December

CLOSED

Wednesday 28 December – Friday 30 December

9am-5pm

Saturday 31 December

10am-4pm

Sunday 1 January – Tuesday 3 January

CLOSED

Wednesday 4 January

Normal hours resume
Leven Street Car Park
11 Level Street, Invercargill


Friday 23 December

Normal hours

Saturday 24 December

Normal hours

Sunday 25 December – Tuesday 27 December

CLOSED

Wednesday 28 December – Saturday 31 December

Normal hours

Sunday 1 January – Tuesday 3 January

CLOSED

Wednesday 4 January

Normal hours resume
Parks Office
parks@icc.govt.nz

Queens Park, Invercargill
(03) 211 1777


Friday 23 December

8.30am – 12pm

Saturday 24 December – Sunday 8 January

CLOSED

Monday 9 January

Normal hours resume

Parks and reserves areas will be open to the public as usual

Winter Gardens (Queens Park)

Sunday 25 December

CLOSED

Animal reserve (Queens Park)

Sunday 25 December

CLOSED

Aviary (Queens Park)

Sunday 25 December

CLOSED
Rubbish and Recycling Collection

wastenet.org.nz
wastenet@icc.govt.nz

There will be no collections Monday 26 December 2022 or Monday 2 January 2023 due to public holidays. Collections will be one day later.

Visit WasteNet to find your normal collection date: Find your bin day
| | | |
| --- | --- | --- |
| Waste Transfer Stations | Invercargill | Bluff |
| Sunday 25 December | CLOSED | CLOSED |
| Monday 26 December | OPEN | CLOSED |
| Sunday 1 January | CLOSED | CLOSED |
| Monday 2 January | OPEN | CLOSED |
Splash Palace
splash.palace@icc.govt.nz

56 Elles Road
(03) 217 7506


Friday 23 December

5.30am – 9pm


Saturday 24 December

6am-5pm

Sunday 25 December

CLOSED

Monday 26 December – Tuesday 3 January 2022

9am – 5pm


Wednesday 4 January

Normal hours resume