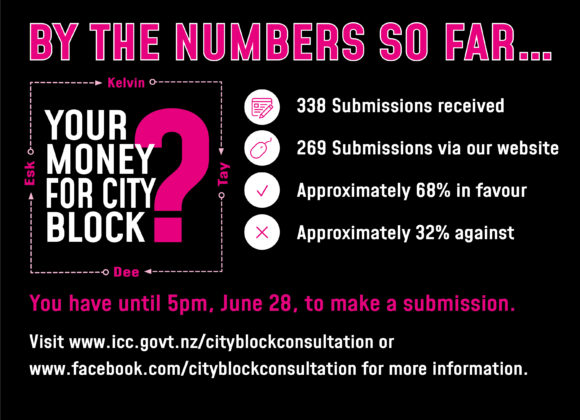 More than 300 people have had their say on the city block development investment proposal – have you had yours?
The Invercargill City Council is currently in consultation with the community about whether it should invest up to $30 million in the city block development.
Council Strategy and Policy Manager Melissa Brook said so far, about 68 per cent of submitters were in favour of investment, while about 32 per cent were opposed.
Almost 270 of those submissions were made through Council's website, the first time an online form of its kind had been offered.
After multiple drop-in sessions were held throughout the city and Bluff, Ms Brook said she hoped residents felt they were well informed and were able to make their submission before consultation closed on 28 June.
"The drop-in sessions have gone really well, particularly in Bluff where we had some really good questions and feedback on the proposal.
"We also had the opportunity to speak to students at Aurora College and James Hargest College which has given us a youth perspective."
A hearing of submissions is scheduled to begin on Tuesday, 16 July.
Ms Brook called on people to make a submission before it was too late.
"Council really needs your feedback on this – many people have commented this could be the biggest decision our city faces for a generation."
For more information, and to make your submission online, visit www.icc.govt.nz/cityblockconsultation