Make sure to join in the festivities at the City Centre Christmas Festival and Market in Esk Street on Saturday, 9 December, from 10am to 2pm.
There will be plenty of one-day sales to help you with your Christmas shopping, kids will enjoy fairies (on stilts!) and free face-painting. There will be live music throughout the day including The Tongan Drummers, Cheryl Anderson and the Foveaux Choir. Meet Santa, try some take-away food from one of the city's fantastic food trucks – and grab a bargain or two.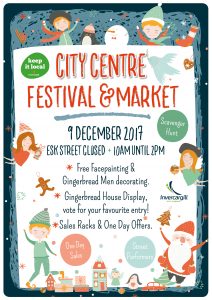 The Gingerbread House display and competition will be open to the public in Cambridge Place Arcade where you can vote for your favourite entry and see the winners. After looking at the Gingerbread Houses why not decorate your own free gingerbread man?
The competition, organised by Invercargill City Council City Centre Co-ordinator Kari Graber, attracted 51 entries and this year includes a special category for replicas of Invercargill buildings. Guest judges Mayor Tim Shadbolt, pastry chef Bernadette Paisley, and Southland Boys' High School teacher Brendan Baucke make their decisions today (8 December). The Gingerbread House display in Cambridge Place Arcade will be be open to the public from Saturday (December 9) during the Christmas Festival and Market, when the winners will be be announced. Members of the public are invited to vote for their favourite house until January 5.
Along with all of this, the Arcade between Esk and Don Streets will be transformed into a magical Christmas Grotto, thanks to the efforts of SIT students. This is where you can enter in the family photo competition and get a feel for a traditional winter Christmas.
The festival  promises to offer something for everyone!
Print your own CBD Festival and Market Day 2017 poster