Invercargill City Centre Master Plan
Summary document – City Centre Masterplan
View the Invercargill City Centre Master Plan
Invercargill City Centre Master Plan – Appendices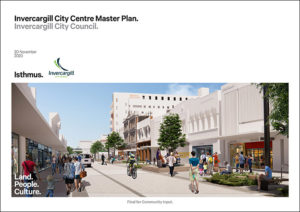 Creating public streets that make people want to visit the city centre, that connect major developments and encourage people to stay is the aim of a major planning project being led by Invercargill City Council.
It's an exciting time for Invercargill. Significant investment is being made in the city centre with the Invercargill Central Limited development, Langlands Hotel, SIT projects and other business expansions. The Council is working alongside these developments to create more vibrant, attractive streets and create connections in the city. Budget of $20 million has been set aside to carry out projects and improvements identified in the Master Plan.
We're working with local businesses, community organisations, iwi, elected members and technical specialists in a collaborative process to shape the Master Plan. The Invercargill City Centre Master Plan will guide improvements to streets and public spaces in the heart of the city – beyond that, it aims to create a city centre that we can be proud of, that people want to visit and stay awhile. It will include key projects and outline future improvements that encourage visitors and residents to wander through and spend time in the city.
What is the Master Plan?
The Master Plan will become a framework the creation of an exciting, vibrant city centre. It draws on past work, the feedback of community groups and businesses and the region's history, culture and environment to come up with ideas and plans for improvements. The plan will be flexible to meet changing needs and people can get involved in the future as the various parts are built.
What will be in the Master Plan?
The Invercargill City Centre Master Plan is a framework for future projects that will create a welcoming city centre we all want to visit. Specifically, it will look at how streets, footpaths and associated public spaces can change to achieve this goal. There will be some exciting new public projects, along with ideas to change the way we get around town and spend time in the city. Some of the ideas will help activate streets and test possible temporary solutions, before permanent upgrades occur.
The aim is to make Invercargill's city heart a more interesting, vibrant and attractive place to be. We want to create something for everyone – families, the young and old, businesses, tourists and those who visit the city centre most.
How does the Master Plan fit with other city developments?
We want our streets to connect the new developments and existing businesses so the city centre makes sense, is easy to get around and becomes somewhere people want to spend time. There have been city centre improvement plans considered in the past and now is the time to press ahead with work so we can all make the most of the new and exciting developments underway.
Who's involved?
The Council has engaged urban design specialists Isthmus Group to lead the Master Plan work. The team is working alongside a Project Working Group of Council staff, elected members and various city stakeholder groups, and reporting to a Governance Group.
City Centre Governance Group
A Governance Group has been established which will guide, promote and champion the Master Plan. Members of the governance group were selected to ensure direct links to the community, support for engagement with key stakeholders, and to provide a vehicle for businesses already based in our city centre to have an influence on the outcomes of the plan. The Group meets regularly to receive updates on the process and offer feedback.
A wide-ranging working group – made up of community groups, businesses, iwi, and other local interest groups – has been developed to guide the planning process. Since June 2020, various information-sharing and feedback sessions have been held to draw on input from the people who will use the city centre most and are interested in its development.
Public information and feedback
To make the plan a success, the Council wants to reflect the aspirations of the people that use the city centre. We'll be sharing information about the planning process and what's happening next on a regular basis. If you'd like to know more or have some specific questions, please Contact Georgia Woodward, Corporate Planner 03 2111 451
Guiding Principles
As a result of early feedback from community stakeholders through the Master Plan Project Working Group, six Guiding Principles were established to give focus and clarity.
Beyond the Master Plan process, the Guiding Principles will remain to help give shape to work being carried out in the city centre.
A summary of the Guiding Principles can be found here.
Latest news
Community views sought on city centre
2 December 2020
Council to consider Master Plan ahead of public feedback process
27 November 2020
Community helps shape Invercargill City Centre Master Plan
17 September, 2020
Special group to help drive city centre master planning project
7 August, 2020
Bringing the 'wow' back to Invercargill's city centre
17 June, 2020
More information
Contact Georgia Woodward, Corporate Planner 03 2111 451 for more information or if you have specific questions.