Hiring the Theatre
The Civic Theatre embraces a variety of different sized locations suitable for several kinds of occasions and is ideally placed in the inner city, five minutes from the airport and within a few minutes walking distance from most inner city accommodation.
The auditorium facing the main stage can welcome up to 1015 people seated – the perfect venue for large shows and special occasions with a broad audience.
It can be separated to suit the size of the audience with the following options:
Option 1: Ground level – Stalls only (up to 520)
Option 2: Ground & first level – Stalls & Dress Circle (up to 779)
Option 3: All 3 levels – Stalls, Dress Circle & Gallery (up to 1015)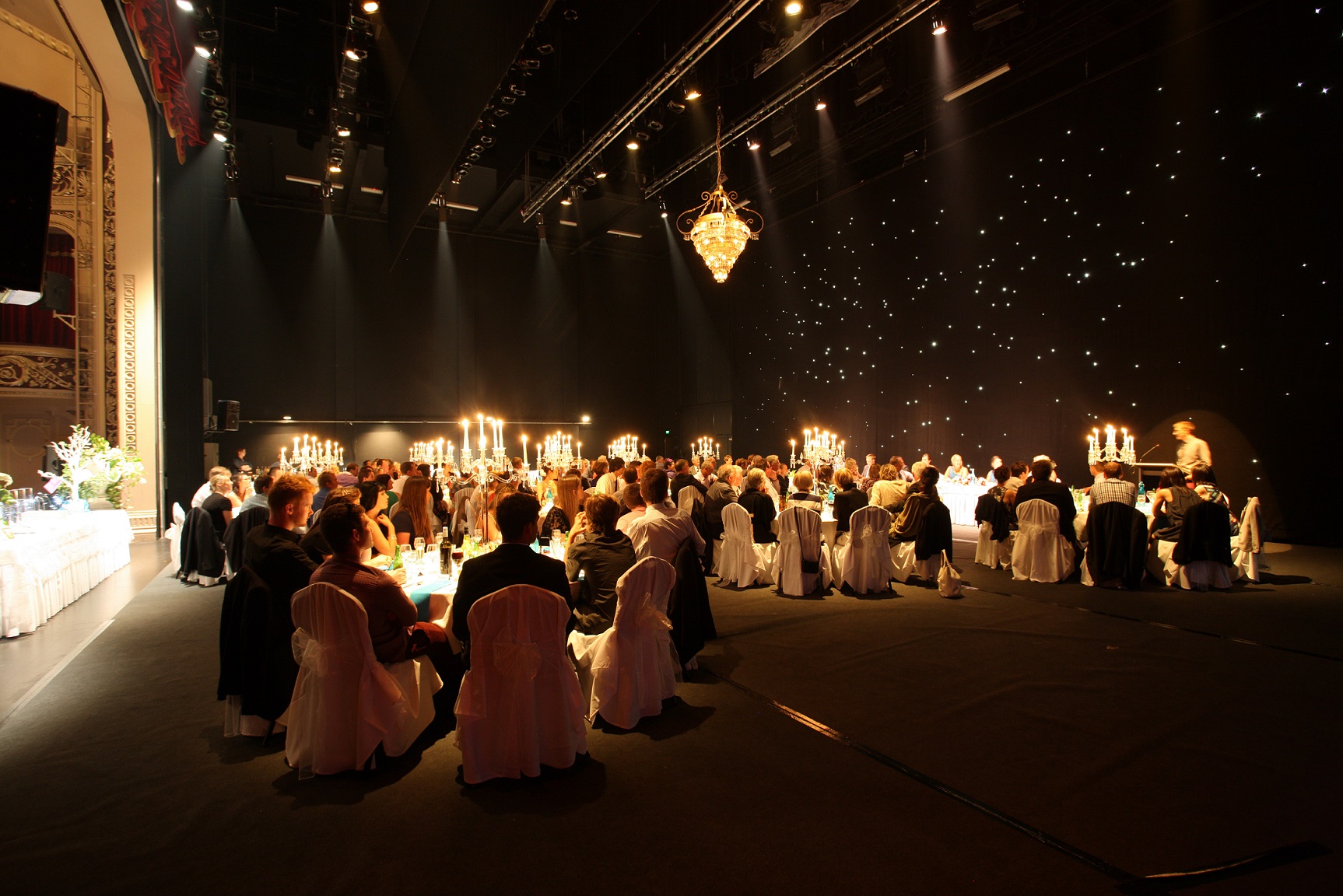 A possible banquet or cabaret set up on stage will allow seating for up to 200 guests for gala dinner style events and exclusive performances.
The front part of the Theatre complex forms the Grand Foyer, which can be utilised for cocktail functions, meet & greet specials, small concerts and info evenings. It also acts as the welcoming entrance area for shows including a bar to supply beverages and snacks, a merchandise area for clients to use, as well as the box office for ticket sales.
The Grand Foyer comprises the Piano Lounge, Nellie Melba Bar, Edison Bar, the Lockout Lounge and the Info Space at the east entrance.
The Piano Lounge is also where our popular First Fridays are taking place each First Friday of a month from 5-7pm, welcoming everyone into the weekend with live music and drinks.
From the Grand Foyer you'll find your way to the following other venues:
The Drawing Room in classical Edwardian style can host up to 30 guests seated in café setup, equipped with technical supplies suitable for meetings, trainings, presentations and conferences.
The Snug – an unexpectedly colourful little space offering equally all the technical equipment like her bigger meeting room sisters and accommodating up to 6 people in playful ambience.
The Wikitoria @The Civic – a beautiful little gem of a Theaterette in dark green – golden chic with a grand stand, stage and backstage area, perfectly suited for smaller cabaret style performances, cinema nights or corporate events that require a bit more glamour than the typical conference.
It is equipped with appropriate sound and lighting gear to cater for little shows and concerts welcoming up to 100 guests seated depending on room set up.
The Victoria Room with adjacent bar and a commercial kitchen is ideal for cocktail functions, meetings and presentations for up to 50 guests seated.
Events
Weddings
The fully licensed Civic Theatre Complex has hosted generations of successful weddings. Our experienced Venues Staff can assist you with many aspects of planning for your wedding to ensure that your day is hassle free and memorable. From small wedding breakfasts to arranging the entire day in the venue – we work with our talented caterers to create the package that best suits your needs. The Civic's ornate gold and deep maroon Edwardian styled décor offers a wedding venue with a difference. Suitable for the entire wedding…including the wedding ceremony, pre-dinner drinks, photographs – the variety of areas of Civic Theatre makes this venue uniquely versatile.
Conferences
The Civic Theatre Complex is a popular option for smaller conferences. Experienced event staff can help plan conferences successfully. They have extensive local knowledge and can help you with your conference planning including floor layouts, hospitality, catering, security, technical requirements, entertainment, accommodation and more. The complex has a number of rooms ideally suited for breakout rooms, workshops, morning tea or cocktail functions.
Catering and technical services
A variety of catering options can be discussed with the Client Relations Lead.
Our professional in-house Technical Services Team are happy to help with all lighting and audio needs.
Booking policy
Bookings can be made up to three years in advance. Bookings outside this time are accepted only where there are exceptional circumstances. The right not to accept a booking is reserved. In the interests of maximising the benefits of larger events to the City, the right is also reserved – in consultation with the hirer – to relocate the event to another venue.
Bookings are considered confirmed when a signed contract (prepared by Venues Staff) has been received and a deposit has been paid. For ticketed events, ticket sales will not begin until the signed contract and deposit have been received. If the contract and deposit is not received within 14 days of the contract and invoice being sent out, the booking may be cancelled without further notice.
If a confirmed event is cancelled within 30 days of the event, the deposit payment will not be refunded and an administration charge may apply. In the event of a cancellation, clients will be invoiced for any contracted external goods or services, if arrangements had been made for payment of the same from ticketing proceeds. Once your booking is confirmed you will be contacted by staff to ensure you understand and can meet health and safety conditions. Our friendly staff are on hand to ensure that your event runs smoothly.