The Bluff  township, which has population of 1791 according to the 2013 Census, has a Community Board to help promote and enhance the area for residents and visitors alike. Examples include the Bluff redevelopment project (opened in December 2008) and the Bluff Community Board Bursary.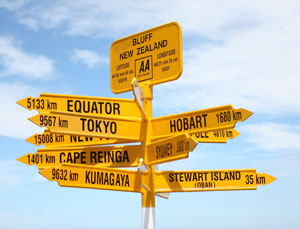 The Stirling Point upgrade and Chain Link Sculpture were completed in December 2008. The upgrade was opened by Invercargill Mayor Tim Shadbolt, and the sculpture by Alison Broad, former chairwoman of the Community Trust.
The Council's  Bluff Service Centre, which includes Lotto, Post Shop and library services, is 16 Gore Street. The Community Board meetings are held at the Muncipal Chamber.
Related links: