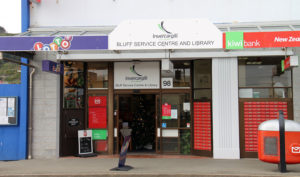 The Bluff township has a Community Board to help promote and enhance the area for residents and visitors alike. Examples include the Bluff redevelopment project (opened in December 2008) and the Bluff Community Board Bursary.
The 2018 Census put Bluff's population at 1797.
Bluff Service Station
The Council's  Bluff Service Centre at 98 Gore Street deals with Council payments as well as Lotto, Post Shop and library services. The Bluff Community Board meetings are held at the Municipal Chamber.
Lotto Operator – Bluff Service Centre – Part-time
The Invercargill City Council is looking for a part-time Lotto Operator to join our friendly Bluff Service Centre team.
We are looking for applicants who are committed to providing exceptional customer service, have a professional, courteous and helpful attitude along with well-developed computer knowledge. You will offer excellent communication skills – both verbal and written, have the ability to prioritise and meet deadlines, cope well under pressure and have a can-do attitude.
As a Lotto Operator, you will be responsible for operating the lotto terminal as set out by NZ Lotteries Commission procedures as well as entering promotions.
The hours of work for this role will be as per the following four week roster:
Week 1: Saturday: 3.00pm to 7.00pm
Week 2: Saturday: 1.30pm to 7.00pm
Week 3: Saturday: 1.30pm to 7.00pm
Week 4: Saturday: 3.00pm to 7.00pm
To be successful for this role you must be 15 years of age or older, ideally have experience in cash handling and customer service. Experience and training in a Lotto Operator role would be advantageous but not essential as training will be provided.
If you would like a copy of the job description then please email nicola.allan@icc.govt.nz
Alternatively, if you would like to apply for this position then send your cover letter and CV to people.capability@icc.govt.nz and in the subject line add 'Lotto Operator'.
Applications closes 11 July 2021 at 4 pm
---
Events calendar
Bluff has its own events calendar which highlights local events ranging  from Sea Scout meetings and weight loss groups to international events such as the Bluff Oyster and Food Festival and the Bluff Hill Climb section of the Burt Munro Challenge.  The latest version is available here:
Bluff Events Calendar – December 2018 to January 2019
Bluff Community Board annual newsletters
Bluff Board News – Dec 2019
Bluff Board News – Dec 2018
Bluff Board News – Dec 2017
Bluff Board News – Dec 2016
Bluff  Board News – Dec 2015
Bluff Board News – Dec 2014
What to do and see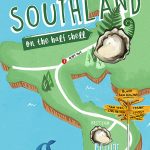 Download your very own copy of  Southland on the half shell!  The booklet has got just about everything – including recipes featuring the best delicacy in the world – the scrumptious Bluff oyster.
Sign of the times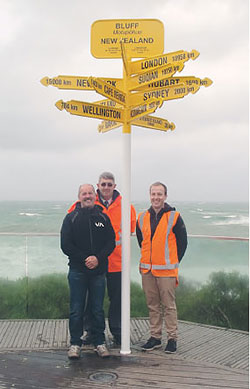 The new Stirling Point sign was installed on a stormy evening in November 2018.
The old sign, which was a little the worse for wear, had to be replaced after it was discovered some of the blades were not correctly positioned. It was also an opportunity to update the sign by adding a blade pointing to Invercargill's sister city Suqian, China.
The new sign was made by local business Bluff Engineering.
Pictured from left are Bluff Community Board Chairman Ray Fife, Invercargill City Council Roading Manager Russell Pearson and Council staff member David McCormick.
Other Bluff links
Bluff Oyster and Food Festival official website
Bluff Community Board
Members of the Board