City Centre News highlights new businesses and initiatives in the Invercargill CBD. The aim is to inform the community and to encourage shoppers to come into town.  Two publications – the City Centre News (which runs monthly in The Southland Express) and CBD Catch-up (a newsletter primarily aimed at city centre businesses) – are archived on this page.
Simply Special in the Cambridge Place Arcade
Invercargill's newest gift and décor store, Simply Special, provide a great range of items from affordable to high-end, right in the heart of Cambridge Place Arcade. It opened on Monday, 27 March 2017.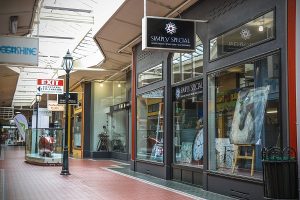 It will be run six days a week by mother and daughter Joanne and Monique Butterfield, and owner Joanne is passionate about her business having built it up since she bought it in July 2016. Originally only selling online and through parties, Joanne's vision for the business was always to turn it into a bricks and mortar shop and add vibrancy to the City.
Joanne said shows like The Block and Shortland Street gave her inspiration for the items she stocks.
"I watch these shows and check out all the décor and props. I don't watch for the story line – I watch to see what's on-trend and to check out the rooms," she said.
Before moving into her current location she was selling out of her son's shop in Waikiwi two days a week. Its success made her extremely positive about opening in Cambridge Place Arcade. Joanne spent a great deal of time researching to find a storefront in the city-centre that was going to be both affordable and provide a good location for foot traffic. She hopes to see the rest of Cambridge Place Arcade filled again and would love to have a coffee shop across from her.
"I love what I am doing and this is my dream job. I have wanted to open a shop for years and now I have one," she said.
Check the promotions and specials on their Facebook page or on their website, www.simplyspecial.co.nz.
Tuatara Backpackers gets a new lease on life
A great backpackers is always a good thing for a city's tourism and the Tuatara Backpackers and Cafe is no exception. New owners Chris Ellenden and Nicola McGilvray have taken on the task of turning it into an asset for the city.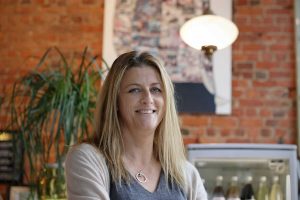 Nicola said her partner Chris was always interested in the building and wanted to strengthen and restore it. "We've done lots of renovations and restorations in the past where we've fixed things up and sold them on. This was the ultimate doer-upper! He (Chris) works with engineers doing earthquake strengthening as a day job, and we think it's good to encourage other businesses to do the same."
A veteran of the arts scene, Nicola (pictured above) has brought her own unique flair to the business. She says patrons will still find a lot of the old favourites on the menu, but new healthy alternatives are also on offer, such as Kombucha drinks, real fruit ice creams, and craft beers, which will be rotated monthly.
"We're looking at making it a space where people can do art. We have access to a lot of fruit from Central Otago, so we're also looking at jam making and preserving lessons." Nicola is also a strong advocate for local products and services and says she is looking to promote local attractions to visitors.
"We want to highlight things such as tours to the Catlins, or exploring the Clifden Caves – things that have fantastic local potential. When people stay here, they may stay an extra night and we'll have something else for them to do." Nicola would like to see other locals raise the bar and invest in Invercargill. She hopes their efforts at Tuatara Backpackers lead to a trend that will encourage future investment in our city centre and surrounding area.
Cargill Tea offers a Chinese experience in the CBD
The first of its kind in Invercargill, Cargill Tea offers tea lovers a unique blend of traditional Chinese teas such as rose milk tea, lemon aloe fruit tea and mango yogurt tea.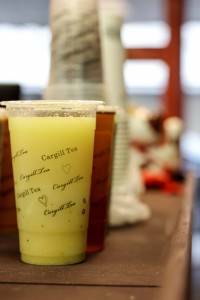 The business, which opened at 10 Kelvin Street last week, is the brainchild of three Southern Institute of Technology (SIT) graduates Ben Limng Peng, who studied business, Eileen Joh, who studied fashion, and Rachel Wang, who studied hospitality.
The trio, who are all in their twenties, saw a perfect opportunity to offer Invercargill something different. After graduating from SIT they moved to Auckland but missed Invercargill, and wanted to be back in the city they had fallen in love with as students.
Whilst living in Auckland, Rachel and Ben worked for Hong Kong Dessert, learning the ins and outs of managing a hospitality business. With some convincing they encouraged the owner to help them open Cargill Tea.
"Invercargill is a great small city with very friendly people. We wanted to open a business that would appeal to both the international students and locals," says Ms Wang.
Cargill Tea is open from 10am – 9pm daily and will soon offer desserts and semi-traditional Chinese food. It hopes to extend the opening hours further to provide some vibrancy in the CBD into the evenings.
You can find them on Facebook HERE.
There's no place like home
For the three Noble sisters, there was only one place they thought open their fashion boutique titled 'Cereal Store' – their home town, Invercargill.
Two months on from opening, the collaborative approach of Sarah, Emily and Katie, has helped to make the store a success. Retail Manager Sarah Noble says prior to starting Cereal Store she was working in a local fashion store over summer with the aim of studying in Wellington in the following year.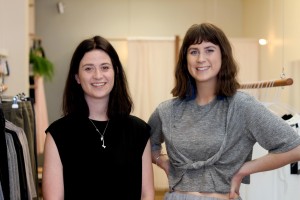 "When that store closed down we sort of had the idea that we could start something that could work! It just fell into place in the way that we all had something different to offer that could make it a success – it was such an exciting and scary time in the beginning planning it all out."
Sarah says they looked at many locations on Dee, Don and Esk Streets before they chose their current location at 26 Kelvin Street. "It was so obvious that the store was the perfect 'boutique' size and we would be surrounded by other designer stores more similar to what we were planning, rather than chain stores."
All the clothing brands they stock are exclusive to Invercargill: Lonely, Commoners, Lazy Oaf, The Fifth Label, Finders Keepers, Blak the Label.
"We've also got Creeps & Violets jewellery, which is designed and made in Dunedin by a lovely girl called Steph Miller and Lighthouse Candles from Balclutha, which are handcrafted by our precious cousin Mary Woodrow," says Brand Manager Emily.
Plans for the future involve an online store and designing their own range of clothing.
The Gift Shed – it only looks expensive
Invercargill's newest giftware shop, The Gift Shed, has established a reputation in its few short months in business through listening to customer feedback, clever positioning, and well-priced unique gifts sourced locally. Owner Kirstin Dixon says she decided to start the store, which opened on October 1, after five years' previous experience managing another gift store.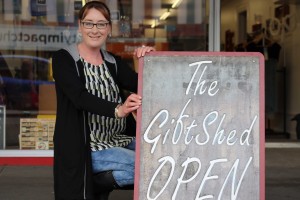 "When it first opened I talked with people who were walking past to get their feedback on why they didn't' come in and they said it's because we looked expensive." To put that into perspective, the most expensive item of jewellery in store doesn't exceed $25. "So we put a sign outside the next day that said 'come on in – we only look expensive' and things really started to pick up! "As well as our physical store at 129 Dee Street, we also attend markets such as the Alexandra Blossom Festival and we sell through our Facebook page.
"Among our unique products are plywood pictures. People can send us a picture and we print them on plywood and we can also print on glass, canvas and corrugated iron. We also stock a clothing line made by a local designer which is affordable and on-trend, and handbags which sit around the $50 mark, wallets, man-cave signs, door mats, jewellery, wooden toys for children and more," Kirstin says. "With such a varied range of unique items, it's the perfect place to find that special Christmas gift!"
City Centre News archive
The City Centre News runs once a month in The Southland Express.
2018
2017
City Centre News – December 7
City Centre News – November 2017
City Centre News – October 2017
City Centre News – September 2017
City Centre News – August 2017
City Centre News – July 2017
City Centre News – June 2017
City Centre News – May 2017
City Centre News – Apri 2017
City Centre News – March 2017
City Centre News – February 2017
City Centre News – January 2017
CBD Catch-up newsletters
These are newsletters created for businesses in the City Centre.
CBD Newsletter – Nov 9 2016
CBD Newsletter – September 2016
CBD Newsletter – Sept 2016
CBD Newsletter – April 2016
CBD Newsletter – March 2016
CBD Newsletter – March 2016
CBD Newsletter – February 2016