101 fun, family things to do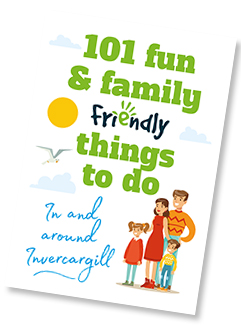 The Council's Friendly Brand Team is proud to introduce 101 fun and family friendly things to do in and around Invercargill. The city is a great place to raise a family and the surrounding areas provide plenty of  opportunity to explore. The list highlights a variety of family friendly activities that are either free or at a low cost.
The Friendly brand staff hope the colourful list – which folds into a pocket or purse-size guide – will be welcomed by residents and visitors looking for ideas about what to see and do in and around the Invercargill area. The list is a living document and can be added to as other activities are suggested.

If you are interested in discussing the Friendly brand for your business or event, email friendly@icc.govt.nz or phone Community Development on (03) 211 1777. For updates on the Friendly brand, like our Facebook page.
 Branding businesses, services or events
Friendly partners:
Invercargill Toy Library
Sport Southland (family events and  holiday programmes)
Branded events:
Awarua Whanau Services World Smokefree Day Hikoi 2017
Barnardos Obstacle Course and Fun Day 2017
Children's Day at the Fire Station 2017
ILT Kidzone 2017
Leg-O Event run by the Southland Orienteering Club 2017
Matariki Festival 2017
Polyfest 2017
Try Whanau Triathlon 2017
Children's Day at the Fire Station 2017