The Invercargill City Council created the Friendly Brand in 2012, following the release of the Point of Difference report prepared by Mark Blumsky and Elliott Kirton, with an aim to see a family lens placed over all policies and initiatives supported by Council. We believe families are the centre of all communities, the building blocks of our city.
101 fun, family things to do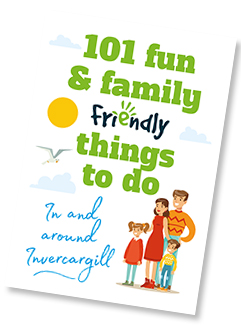 The Council's Friendly Brand Team is proud to introduce 101 fun and family friendly things to do in and around Invercargill. The city is a great place to raise a family and the surrounding areas provide plenty of  opportunity to explore. The list highlights a variety of family friendly activities that are either free or at a low cost.
The Friendly brand staff hope the colourful list – which folds into a pocket or purse-size guide – will be welcomed by residents and visitors looking for ideas about what to see and do in and around the Invercargill area. The list is a living document and can be added to as other activities are suggested.
Friendly brand for businesses, events
If you are interested in discussing the Friendly brand for your business or event, email friendly@icc.govt.nz or phone Community Development on (03) 211 1777. For updates on the Friendly brand.
Friendly partners
Friendly branded events
Eco Festival
Streets are Alive
Parks & Recreation Strategy Consultation
Teviot Street Picnic in the Park
Parks Week
Barnardos Fun Day
CBD Christmas Festival
Big Latch On
Childrens Day at the Invercargill Firestation
ILT Kidzone
Invercargill Toy Library Christmas BBQ
Library Reading Challenge
Murihiku Marae Fun Day
Surf to City