The Council is involved – directly or indirectly – with many types of community funding. This page has information about funding, awards and scholarships.
Funding
Funding Allocation Committees
The Council administers two funds, Creative Communities and Active Communities on behalf of other organisations. The committees are made up of Councillors, Iwi and community representatives.
Creative Communities Invercargill Funding Scheme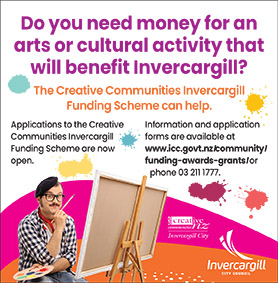 The Creative Communities scheme is for arts and cultural projects and is administered by the Council on behalf of Creative New Zealand.
Closing dates  for the 2020/2021 financial year are:  September 30 2020,  December 15  2020,  March 31 2021 and June 15 2021.
Creative Communities application form September 2020
Creative Communities application guide 2020-2021
Project Completion Report – Creative
Creative Communities grants – 2019 -2020
Active Communities Funding Scheme
Funding in the form of a grant or loan is available for sport, fitness and active leisure activities. Priority is given to activities that train volunteers and increase participation in activities.
Active Communities Grants list 2019- 2020
Applications for projects seeking less than $1000 close at noon on the 15th of  each month; applications for projects requesting $1000 or more close at noon on 31 March and 27 September, June 12 and December 13. This scheme is administered  by the Council on behalf of the Invercargill Community Sport and Recreation Charitable Trust.
Projects under $1,000 – 2020-2021
Projects $1,000 and over – 2020-2021
Active Communities Brochure
Active Communities Evaluation and Accountability Report
This form is to be completed following the completion of each project which receives an Active Communities Grant. The information is used to assist the Invercargill City Council, and to help the Assessment Committee plan for future funding.
Active Communities – Evaluation and Accountability Report
Community funding
The Council allocates community funding through the Community Grants & the Neighbourhood Funds. Through financial assistance we can assist the wider community to be a catalyst for positive change.
Neighbourhood Fund
The Neighbourhood Fund is on hold whilst the best approach to support Neighbourhood initiatives post COVID-19 is developed.
Neighbourhood Fund Framework 2019
Application for Neighbourhood Funding (print and post) or
Application for Neighbourhood Funding (email as an attachment)
Applications can be:
Emailed to: community.dev@icc.govt.nz
Posted to:
Invercargill City Council
Community Funding
Private Bag 90104
Invercargill   9840
Delivered to:  Helpdesk, Invercargill City Council, 101 Esk Street, Invercargill or  to
Bluff Service Centre, 98 Gore Street, Bluff
Community Grants Fund
NOTE: The Community Grants fund is on hold whilst the best approach to support communities post COVID-19 is developed.
Community Grants Policy 2019 (includes grants framework)
Application for Community Grant (print and post) or
Application for Community Grant (electronic)
Events funding
The Council recognises the positive contribution that events make to the city. As part of its vision to support vibrant and strong communities and contribute to a thriving economy the Council has funding available to support events that have a citywide focus. Visit the Events Funding page for details and forms.
Awards
Civic Theatre Artists' Court Performing Arts Awards
These awards honour Invercargill performers who have achieved  national and international recognition in performing arts. The awards are restricted  to Invercargill performing artists in one or more of these categories: dance, drama, film, music, radio, singing and television.
The successful recipients have their  names engraved on plaques placed in the Civic Theatre Artists' Court at the east  entrance courtyard of the Civic.
For more information phone Community Development:  (03) 211 1777 .
Civic Honours awards
Any person who has provided meritorious voluntary service in the Invercargill  City District in one or more the recreation, youth activities, social welfare,  education, cultural services, religious affairs or community affairs is eligible if  nominated by any two Invercargill citizens. Recipients of the triennial awards are  honoured at a joint ceremony in which they are presented with a certificate and a  silver civic award pin. The 2016 Awards went to:
Marion Miller: New Zealand Order of Merit recipient, Suffrage Medal for Services to Women recipient, Commemorative Medal for Service recipient, Justice of the Peace, Environment Southland Councillor, family and relationship mediator.
Karen Purdue: Rotary Board Member.
John Husband: Artist, radio announcer, musician, author and former board member of the Southland Museum and Art Gallery.
Reginald McLeod: Salvation Army Store and Hospice worker.
For more information email Michelle Sievwright
Scholarships
Music
Arts Murihiku administers the music scholarship.
O'Byrne/Jones Memorial Scholarship: This scholarship of $1,000 is available to students of the piano who want to pursue advanced studies. Southland students or students who have resided in Southland for a substantial period of time and who have attained Grade VIII qualifications are eligible to apply. Applications close on Wednesday 30 September 2020.
Alex Lindsay Memorial Scholarship: The Alex Lindsay Memorial Scholarship is no longer available, The fund has been allocated.
Scholarships allocated in 2019
O'Byrne/Jones Memorial Scholarship

Danny Wang
Bertil Feng
Alex Lindsay Memorial Scholarship
Lewis Thomson
Brendan Peters
Bluff Community Board Bursary
Applications are invited from Bluff residents for the Bluff Community Board Bursary. The Bursary is $2000 per annum for three years for:
Candidates enrolled for a full-time course of study at a university or other agreed establishment within New Zealand.
Candidates who are making applications for admission to a university or other agreed establishment within
New Zealand for a full-time course of study in the coming year.
Further information and application forms can be obtained from the Bluff Service Centre Manager with whom applications close mid January 2021.