The Invercargill Public Library building at 50 Dee Street houses the Archives. Opened in 2008, the Archives is home to historic records from the Invercargill City Council, the Southland Community and Public Offices such as the Southland Education Board. The Archives also supports and provides access to the Southland Oral History Project collection.
NOTE: The updated 2015 version of the Otago and Southland sections of the Directory of Archives in New Zealand, last published by Archives New Zealand in 2009, is available for download.
What is an archive?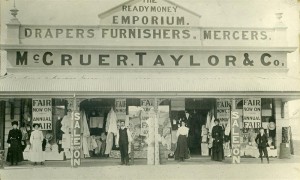 The term "archive" has two meanings:
An archive or archival record is a document, file, photograph, film, letter, diary etc. that has been deemed important to keep because it provides information or evidence of a person, place, event or function that may be of historic interest to future researchers.
An Archive or the Archives also refers to the physical building where the archival records are housed and preserved
What the Archives staff do
Archives staff manage important historic records for future users. Their main tasks include:
Processing donations of records from the Council, Southland Community and Public Offices
Determining which records are of historic value and will be important to future users
Arranging those records into an order that will make sense to researchers
Trying to provide some context about those records – who created the record? When? Why?
Preserve the physical nature of the record and safeguard against undue damage and deterioration
Enable access to the record – in person and through remote research services
Look to the digital future – keeping digital records and digitising physical records
Outreach into the community – tours and talks about Archives services and collections
Accessing the Archives
It is recommended that you contact Archives staff in advance to ensure they are available to assist upon your arrival.
Alternatively, help with information on local and family history can also be sought from staff in Information Services Monday to Friday 9am to 7pm and Saturday to Sunday 10am to 4pm. Archives staff are also happy to undertake tours of the Archives by appointment.
Donating your records to the Archives
All offers of donation are welcomed and will be assessed in relation to our collecting scope. More information about our collecting scope and the donation process can be found on the Library website: Library Archives.
Research Services
Archives staff are able to assist you free of charge when visiting our Archives Research Room in the Library building.
If unable to visit us in person we are able to provide remote research services for a minimum fee of $10. Please contact us for further details and payment options. Photocopying fees apply.
Southland Oral History Project
Oral histories not only capture a living memory of the past, they also provide a voice, a sound to those memories. The Southland Oral History Project is a volunteer-based project that aims to record the stories of Southland and its people. The interviews range from full life histories of interviewees to special topic-based collections.
Access to oral histories is through the Archives. It is strongly recommended that you contact Archives staff or the Oral History Co-ordinator before your arrival by email:  sohp@ilibrary.co.nz
Contact the Archives
Phone:  03 211 1573 
Fax: 03 211 1438
Email: archives@ilibrary.co.nz
Physical address: 50 Dee Street, Invercargill 9810
Postal address: Private Bag 90111, Invercargill 9840
Website: Library Archives
Facebook: www.facebook.com/invlibrary?fref=ts