Invercargill Maps
Invercargill Maps is a suite of user-friendly, dynamic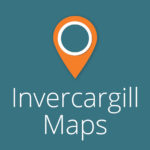 maps displaying various Council information and services.
Gallery includes: Aerial Photos 1950s, Aerial Photo and Property Viewer, District Plan – Hazards Information and Planning Maps, Invercargill Cemeteries, Rubbish Collection Days, Sewer, Storm and Water Pipe networks and Topographic Map of New Zealand.
Please Note:
Invercargill Maps may be unavailable intermittently on Tuesday 21 May for scheduled service maintenance. Apologies for any inconvenience.
---
Invercargill and Bluff maps
Street maps:  Bluff  | Invercargill CBD and Bluff | North Invercargill | South Invercargill | Otatara
Bus routes: Invercargill city and schools bus routes 
Housing Care Units See also Housing Care overview and application process
Invercargill District Plan planning, hazard and related
Parks and Reserves: Queens Park map which highlights the main attractions
Refuse collection. Visit Wastenet's "My Collection Day" page and enter your address for up-to-date information for YOUR bins
Tourist/visitor maps and guides
Greater Invercargill locator map; includes Bluff
Central Invercargill: includes landmarks and parks
Bluff: includes streets and landmarks
Constituency maps
Invercargill Licensing Trust area
Regional Council constituencies
Southern District Health Board