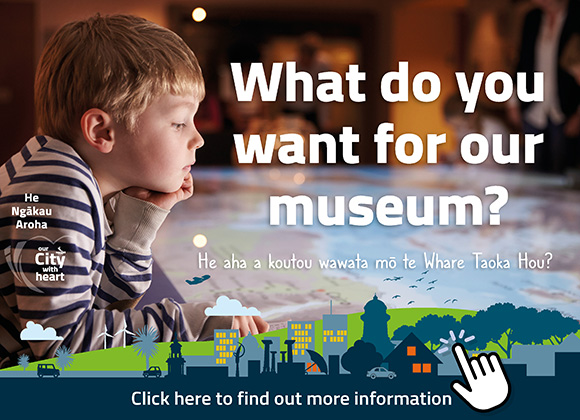 Council are seeking feedback on the 2022/2023 Annual Plan including the Te Unua Museum Redevelopment.
To learn more, and have your say visit letstalk.icc.govt.nz
He Waka Tuia

The He Waka Tuia transitional Art + Museum space is a joint initiative between the Invercargill Public Art Gallery and the Southland Museum and Art Gallery.
It is to ensure that our local community and visitors can still access our collections, experience our history and stories and appreciate a variety of cultural endeavours, delivered in innovative and experiemental ways.
Opening Hours
Mon – Friday: 10am – 5pm
Weekends: 11am – 2.30pm
Closed Good Friday and Christmas Day.
For more information visit www.hewakatuia.nz
---
Southland Museum and Art Gallery
The museum was closed to the public indefinitely on Thursday, 12 April 2018.
Phone 03 2199069
The Southland Museum and Art Gallery Trust Board commissioned consultant Tim Walker to undertake a strategic review of the museum, which includes recommendations for its redevelopment.
The report and its appendices can be viewed below:
---
Other Southland Museums
Awarua Communications Museum
1276 Bluff Highway SH1.
Sundays 1pm to 3pm or by appointment
Phone 0274 237 465 for further information or visit the museum website
Bluff Maritime Museum
Monday to Friday 10am – 4.30pm.
Weekends and public holidays 12:30pm – 4:30pm.
Admission: Adult $3. Child $1.
Phone: 03 212 7534, or email bluffmuseum@xtra.co.nz
Southland Fire Museum
Corner Jed and Spey Streets.Invercargill
Open every Sunday, Tuesday and Thursday 11.30am to 3pm; gold coin
Email: southlandfiremuseum@gmail.com
Thornbury Vintage Tractor and Implement Museum
1pm to 4.30pm Sundays.
Tractors, trucks, farm equipment; the flagship is the 1914 Avery tractor.
After  hours visits can be arranged at these numbers: 03 2246198, 03 2246207,
or 03 2246213