The Invercargill City Council has accepted an invitation from its Japanese sister city Kumagaya to send a delegation to celebrate its tenth anniversary since amalgamation and to share Invercargill's experience of being a host city for the 2011 Rugby World Cup.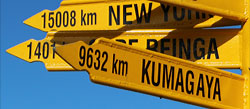 Japan will host the 2019 Rugby World Cup and despite not being named in the initial host city announcement, following a petition signed by 1,000 Invercargill residents Kumagaya was added to the list of host cities.
This morning Mayor Tim Shadbolt sent a message to the Mayor of Kumagaya, Kiyoshi Tomioka, congratulating him on Japan's upset win over the Springboks at the weekend.
The group leaves Invercargill on Friday night and flies to Japan early Saturday morning. Members of the delegation:
Deputy Mayor Darren Ludlow (delegation leader)
Cr Lindsay Thomas
Cr Graham Lewis
Mr Cameron McIntosh, Director of Works and Services
Mr Paul Horner, Manager Building Assets.
Mr Tom Sawyer, President of the Kumagaya Friendship Association will accompany the delegation. The Kumagaya Friendship Association will pay for his travel and accommodation.
Interpreter Miss Midori Sasaki, who is Head of Languages at Southland Boys' High School, will already be in Kumagaya as part of a school exchange and will provide language assistance when required.