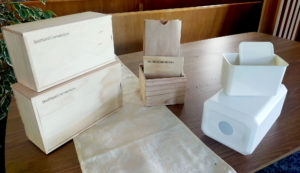 The Southland Crematorium has changed from plastic urns to sustainably sourced wooden urns.
The new wooden urns are made in New Zealand from untreated pine sourced from sawmills that have Forest Stewardship Council 'Chain of Custody Certification'.
This means that their timber products must be from a responsibly managed forest.
We believe the move away to the eco-friendly wood and paper bags is a good decision as they are more aesthetically pleasing and a natural product that is better for the environment.
The initiative has received positive feedback from the public.
New Zealand has been looking at the use of plastics, and ustainability in what we do and the products that we use.
This is a part of that movement and a good step for Invercargill City Council to take.
BY RICKY MULQUEEN
Team Leader – Cemetery Services