Invercargill City Council Deputy Mayor, Darren Ludlow, is to step aside from the role and has this morning formally notified Mayor Tim Shadbolt of his intentions.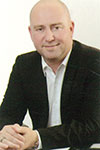 Cr Ludlow (pictured) met with His Worship the Mayor and Chief Executive Richard King at 8.15am this morning to advise them of his decision and present a letter of resignation.  Mayor Tim Shadbolt has accepted this resignation.
The following is the text of that letter:
Your Worship,
 It is with regret that I tender my resignation from the role of Deputy Mayor of the Invercargill City Council.
 I apologise for the unexpected nature of this announcement and hope it will not cause too much disruption to the positive functioning of civic operations.
I wish to redirect my focus in order to more significantly contribute leadership in the areas of responsibility that come with my other Council roles.
Thank you for the confidence you have shown in me: I have appreciated the opportunity to serve as Deputy Mayor for the past 5 years.
 I will continue to serve constructively as a councillor, as chair of the Finance Committee, and on my various appointments – as might reasonably be expected by those who have given me a substantial and consistent mandate for the past five elections.
It is my intention to continue in the role until a replacement is confirmed at the next full meeting of Council.
Cr Ludlow will remain Deputy Mayor until the next Council Meeting on Tuesday 23 May, when a replacement will be chosen by the Mayor and Council.