As demolition of buildings on the corner of Don and Dee Streets continues, the Invercargill City Council, NZ Transport Agency, and ILT have been working together to minimise disruption while continuing to keep the area safe.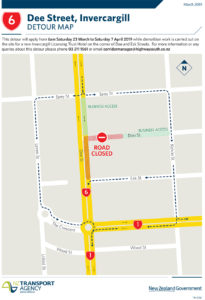 From 6am Saturday, March 23, until Sunday, April 7, detours and alternative access routes will be implemented throughout the inner-city:
Dee Street, between Don and Esk Streets, will be closed to southbound traffic. Detours will be available.
Business access only will apply on the eastern side of Dee Street between Spey and Don Streets.
There will be some business access available on Don Street, which will temporarily be two-way.
In an effort to maintain access to Esk Street businesses, Esk street will be temporarily reversed, so that vehicles may travel from Kelvin Street through to Dee Street via Esk Street.
Please take care to obey all road signs.
Click here for bus route changes