Invercargill Airport Limited (IAL) is thrilled with the introduction of a trial direct service between Invercargill and Auckland which will better connect Southlanders to the rest of New Zealand, and the world.
The return service is expected to leave Invercargill for Auckland at 6am with a return flight leaving Auckland at 7.35pm and arriving in Invercargill at 9:30pm. The service will run five days a week –  Monday, Tuesday, Thursday, Friday and Saturday – starting from the second half of 2019.
IAL General Manager Nigel Finnerty said the announcement was the result of many discussions and negotiations between the airport and Air New Zealand.
"This is something we've had set in our sights for a long time and we're very happy the day has finally arrived where we can say that this coveted route is now a reality for people travelling into and out of the Southern region," he said.
Invercargill Airport
at a glance

With a runway length of 2210 metres, the airport can land all narrow-body domestic jets and turboprop aircraft.

Over the past 12 months 312,000 passengers have passed through the terminal, an increase of 14,000 passengers on the previous year.

The airport has regular passenger flights to Stewart Island, Christchurch, Wellington and – soon – Auckland.
"Southlanders have been asking for a direct flight between Invercargill and Auckland for a long time and this announcement means Southland will be more connected to the world than it's ever been. We believe the Southland community will get right behind this trial and make this service a success."
Air New Zealand Regional Affairs Manager Reuben Levermore said the company was pleased to be growing its presence in Southland and looked forward to creating new opportunities in the region.
Invercargill Airport's capability to take on additional flights and larger jets has been heralded for some time. The annual jet flights between Auckland and Invercargill for the Bluff Oyster and Food Festival and the international flight between Invercargill and Melbourne in 2015 for the Melbourne Cup have demonstrated Invercargill Airport's capability to take on both additional flight services and larger aircraft.
The airport also recently had a Qantas international diversion from Sydney which tested its capability, but a can-do attitude ensured the flight was accommodated. With one of the longest runways in New Zealand at 2210 metres and 45m wide, the airport is fully capable of landing all narrow-bodied commercial jet aircraft. The runway is also strengthened to accept the maximum weight of a Boeing 767 aircraft.
IAL Chairman Tommy Foggo said this capability, combined with the airport's terminal upgrade completed in 2016, meant the region would be welcoming more visitors and opened up further travel opportunities for Southland residents.
"The benefits are enormous. It means the region is more connected to New Zealand's most populous city and largest airport, it will bring more visitors to the region and make it easy for business travellers to get into and out of Southland."
"Invercargill is ready to go – we need to incorporate security services into our terminal along with a new lounge, but the plans are in place and will be completed before the first jet arrives," he said. "Customers will now have far more choices and opportunities when it comes to planning their journeys.""
Invercargill Mayor and IAL director Tim Shadbolt said he was pleased to see the advantage of having one of the country's longest runways put to good use. "We have the infrastructure and we have the capacity so it's fantastic that we're now able to open up the region to more people, more business and more opportunity," he said.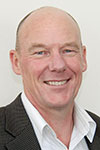 Mr Finnerty (pictured) said Invercargill Airport was well-positioned and realistically one of the best options to help the growth and distribution of tourism in the south, alleviating some of the pressure on Queenstown.
The number of people visiting the southern region is growing with many visitors making the trip over to Milford Sound, he said.
"Considering it takes the same amount of time to get there from Invercargill as it does from Queenstown, we see a real opportunity for people to start their southern New Zealand holiday from our place."
In other places in the world, people would likely spend more than two hours just to travel to the airport they were departing from, he said.
"Driving through Southland can be just as much part of the journey and there's some amazing scenery to be experienced between Invercargill and Queenstown."
In the meantime, the newly-announced Invercargill-Auckland service signals that Southland is very much open for business and is a catalyst for encouraging economic buoyancy, Mr Finnerty said. "We couldn't be more excited about this increased accessibility and look forward to continuing to grow our relationship with Air New Zealand."