The largest event on the Sport Southland calendar, the ICC Surf to City attracts about 3500 entrants and will this year be held on Sunday, March 10.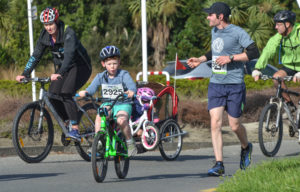 Naming rights sponsor the Invercargill City Council has again put its support behind this iconic event, signing on for the next three years.
Sport Southland chief executive Brendon McDermott said having the council's ongoing support emphasised the value of active recreation for our community.
"Events like the ICC Surf to City provide the sort of physical and mental benefits which help to build a resilient, connected community. If you stand at the finish line in Queens Park you'll see people of all backgrounds, ages and ability with a big smile on their face and a huge sense of achievement as they cross the line," McDermott said.
It also showed the value of organisations working together to achieve better results for the community, he said.
"We all have a role to play in supporting and developing our community's wellbeing, and getting active together is an ideal way of doing that."
Invercargill mayor Sir Tim Shadbolt said the annual event added to the vibrancy of Invercargill.
"The Council is delighted to once again be involved in this iconic event for Invercargill. It's great fun for everyone involved, and a wonderful activity for the whole family."
This year's event will include a range of options for all ages and fitness levels, from the 12km bike, run or walk, to the 6km and 3km versions.
Entry is $10 per adult, $5 per child (under 16), and $20 per family (two adults and up to three children). A late fee of $5 will apply to anyone entering on the day.
Buses will be available to take runners and walkers out to the beach from Queens Park and South City. The bus will cost $2.
Anyone wanting to take part in this year's ICC Surf to City should head to https://www.sporty.co.nz/iccsurftocity