In an effort to control what emissions Invercargill City Council is putting out into the environment, it has started the process of switching some of its fuel-consuming vehicles to hybrid and electric vehicles.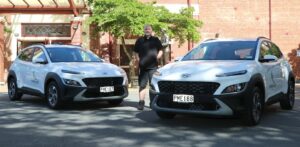 Part of Council's Motor Vehicle Policy is to consider Australasian New Car Assessment Program (ANCAP) safety, CO2 emissions, cost-saving purposes and to make sure it is fit for purpose for the team.
Manager Procurement Nick Bridges said making the switch would lower operating costs and was more environmentally friendly.
Currently, across all areas of Council, there are about 82 cars, vans and utes that are a combination of fuel, hybrid and electric in the fleet.
Sometimes it is not appropriate to convert to EVs or hybrids because of the nature they are being used for. For instance, utes that are used by the Parks team are necessary for maintenance at the various parks and reserves and are not yet available in a hybrid or EV.
The Climate Change Commission has said transport emissions must be cut by at least 13% by 2030, and at least 41% by 2035 to achieve emission goals.
The average CO2 grams per kilometre (g/km) for vehicles used by Civic Administration Building staff has reduced by 4.8% from 186 in 2021 to 177 in 2022. The purchase of EVS and hybrids has contributed to the reduction as they contribute 98 CO2 g/km.
As Council moves away from older and less fuel-efficient vehicles and towards hybrids, there is an expected 15% reduction in litres of fuel used per year. In the year 2021, 54,816 litres of fuel was used, and in 2023 it is predicted to reduce to 46,176 litres.
"I'm really proud of the steps we as Council have taken so far to reduce carbon emissions. However, we still have a way to go and the increase in hybrid and electric vehicles to our fleet is a big step towards Aotearoa's collective vision of Zero Emissions."
As fleet vehicles reach the end of their economic life, they are being replaced with more environmentally friendly vehicles.
Six Hyundai Kona Hybrids are set to be added to the pool vehicles in October.