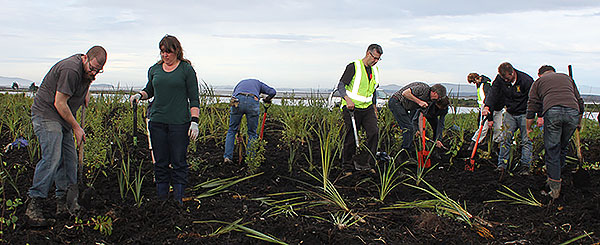 An ambitious project by Rotary and the Invercargill City Council to restore the beauty of the New River Estuary by planting 22 hectares is now complete.
The end of the project falls in Rotary's centennial year and will be marked with the creation of shelters at the top of the hill. Members of the public are invited to join the opening at the Bond Street Car Park entrance at 1pm on Sunday, 11 June, 2017. After the ceremony Councillor Lloyd Esler will be on hand (with his telescope) to chat about the habitat and bird life.
The Council's Parks staff and the six Invercargill Rotary clubs have spent 12 years developing and planting out what used to be the Invercargill tip with more than 250,000 native plants.
The project began in 2005 with a ceremony at the Stead Street entrance to the walkway, which goes around the estuary, across the landfill site's causeway and returns via the eastern side of the lagoon. The first stage of the walkway was opened by the then Deputy Mayor Neil Boniface.
Five clubs – Invercargill North, Invercargill, Invercargill South, Invercargill East and Invercargill Sunrise – have helped with the plantings around the estuary margins to re-vegetate the area. Another club, NRG Invercargill which was chartered in 2016, has also been involved.
The trail is gravelled and has boardwalks and interpretative panels outlining the history of the estuary. Seating and shelters have been added. The service clubs decided the walk and cycleway was a worthwhile project because it would benefit a wide range of users.