Prices
Adults $35, children $15 (aged 14 years and under; must be accompanied by an adult)
Tickets
Ticket Direct
Service fees apply. See the official festival website for other ticket outlets.
The salty township of Bluff is home to this winter festival event, proudly brought to you by the locals of Bluff with a uniquely Southland flavour.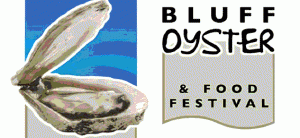 Complementing the sumptuous Bluff oyster is a variety of sea food with crayfish, paua (abalone), scallops, salmon, blue cod and whitebait in abundance.
Other local fare includes mutton bird, venison, lamb, beef and pork, which can be washed down with a great southern ale or one of several fine New Zealand wines.
So, grab your hat, scarf and a winter coat and join us for an event-filled day, with live music and oyster competitions.
Note: Right of admission reserved, no BYO. The organisers remind people that the 2018 event sold out in early February 2018 and advise: "Don't be disappointed – get your tickets now."
Related link:
Official Bluff Oyster and Food Festival website