The Pop-Up Museum is back and this year we are celebrating the 125th anniversary of Women's Suffrage in New Zealand.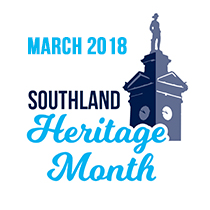 We will be bringing to life some of the inspirational stories of our very own pioneering Southland women. Pop in to have a look at the bits and bobs on display.
Also, to support the theme of Built Heritage, the Invercargill City Council will  have a display in the Pop-up Museum. The Council is keen to find out how you value built heritage and which buildings you think are important and why.
Free admission.