Prices
Platinum (covered): adult / child $50 (same price)
Gold (uncovered): adult $40, child (12 and under) $15
General admission: adult $30, student $10 (secondary and tertiary), child $5.
All prices exclude booking fees and any applicable credit card fees.
NOTE: Gate prices might vary.
Tickets
Ticket Direct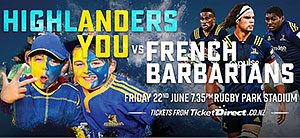 What a weekend of rugby for the Otago/Southland region! The Highlanders take on the French Barbarians at Rugby Park Stadium on Friday (22 June 2018) before the All Blacks v France test match in Dunedin on Saturday.
It will be the third time a touring French side has played in Invercargill. Southland beat France 12-11 in 1979 and 12-7 in 1989.
LATEST: Visit this website for the Highlanders team.